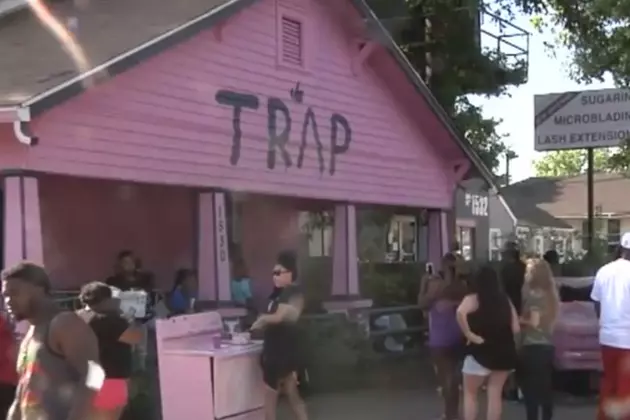 2 Chainz Turns His Pink Trap House into a Free HIV Testing Center
via Fox 5 Atlanta
2 Chainz's Pink Trap House—that is, a pink Atlanta house he rented to promote his newest album, Pretty Girls Like Trap Music—has, overnight, gone from popular tourist destination to a center for health and education. This past weekend the Atlanta rapper transformed the rental home into a free HIV testing center.
According to the Atlanta Journal Constitution, the lanky wordsmith opened his "trap house" for free HIV testing from 11:30 a.m. to 3:30 p.m. this past Fourth of July. The temporary HIV clinic, which was sponsored by the Fulton County Board of Health, Atlanta AIDS and Test Atlanta, also included games, education packets and giveaways.
This is just the second time Chainz has used his "trap house" in a new and unconventional way. This past Sunday (July 2), Chainz—whose Pretty Girls Like Trap Music debuted at No. 2 on the Billboard 200 chart—turned the Pink Trap House into a "trap church" where community leaders gathered to encourage tenants of Atlanta to get involved with local organizations. Dope.
If you've been following rap, you probably already knew that trap houses are designated spots drug dealers have conventionally conducted their drug dealing operation. By transforming this rental home—which, of course, bears a strong resemblance to the pink trap house on his new album cover—into an HIV testing center, Chainz has sort of flipped conventions. Some people don't think that's enough to support something traditionally steeped in so much negativity.
Speaking with Fox 5 Atlanta, Greenforest Community Baptist Church Youth Pastor Al Hollie Jr. spoke out against Chainz's Pink Trap House, which seems to grow more popular with each day.
"Much love to 2 Chainz, his movement and the culture, but if you're taking photos in front of a trap house you haven't seen the damage it can do to a community," Hollie said. "The damage I'm talking about is broken homes, taking family members from each other, kids being taken away, fathers going to prison, children being born addicted to drugs."
To help make his point, Hollie mentioned his own background. "My father went to prison when I was five," Hollie explained. "He still suffers from substance abuse."
Ultimately, no matter what positive endeavor Chainz's ends up undertaken with his Pink Trap House, Hollie might have a problem. "If culture is glorifying something that's destroying communities, we need to choose community," he said.
According to the AJC, Chainz's Pink Trap House is to be rented out until July 7, but its popularity could mean they will hold it down for a longer time.
Check out 2 Chainz's Instagram post announcing his free HIV clinic below.
See Fans' Predictions for the Hip-Hop Songs That Will Rule Summer 2017