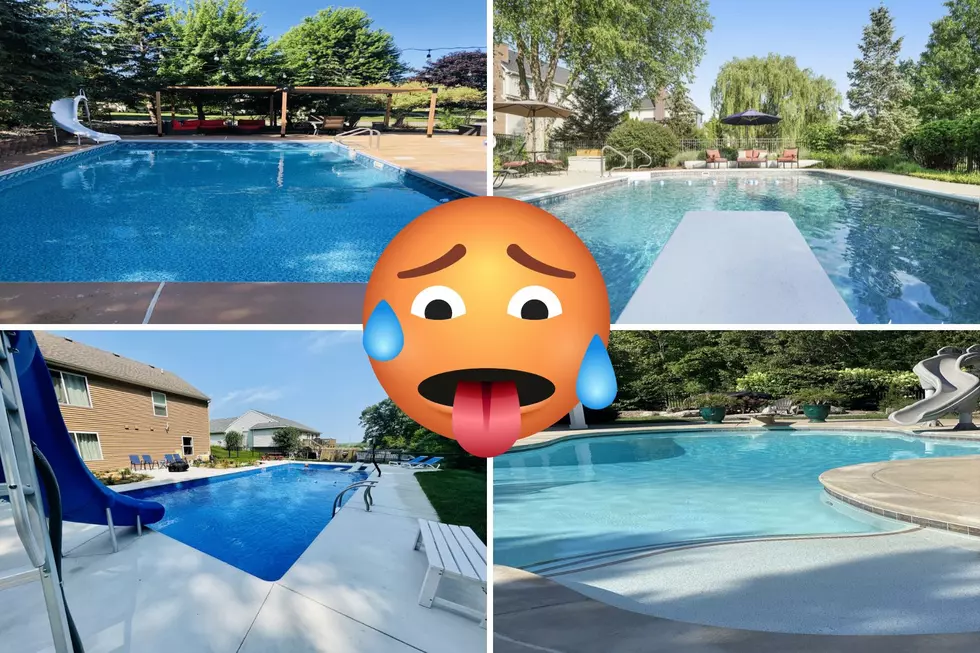 5 Pools To Rent From Swimply in Grand Rapids
Credit: Canva & Swimply
Who wants to host a private pool party? (Invite me to it 😉)
During my apartment search when I first moved, one of the negotiable things was having a pool in the complex.
Now, I cannot swim hence why it is negotiable. However, I like having the pool as an option so I can invite friends over or dip a toe in.
Sadly, my dream apartment did not have a pool, but they had every other non-negotiable thing on my checklist.
Now the question is, where is a private pool that I can rent out for my birthday coming next month.
Luckily, I found 26 answers to this question and want to share them with you. Sharing is caring.
This 5-star-rated swimming pool in East Grand Rapids can allow up to 20 guests. For $50 per hour on the weekend, you can experience a pool that has depths of 4 feet up to 12 feet.
The owners, Beth and Wayne, also keep the pool at 80 degrees and give WIFI access for free.
This pool seems to be a 10 out of 10 experience. For $60 per hour, you can experience the paradise pool with up to 15 of your friends.
"Looking to take a vacation close to home? Our lagoon-style pool is the perfect place to escape from all your troubles! It includes a diving board, slide, ping pong table, and more! Water temperature is always set to 85 degrees. We look forward to seeing you at the escape to paradise!"
Towels, shower access, pool toys, WiFi, fire pit access, and speakers are all free with this pool.
Amanda P. says this is the "perfect pool! Perfect host! Perfect accommodations! We had SO much fun and will definitely book again!"
It's like a private beach! Who doesn't love that?
"Beautiful oasis in Northeast Grand Rapids, Michigan. Water slide, basketball hoop, tanning ledge, lounge chairs, water loungers, large shallow area, good sun, heated."
With up to 10 guests, you can experience this saltwater pool for $45 per hour.
This private pool area, located in Caledonia, is $58.50 per hour on weekdays and $65 per hour on weekends.
"To provide privacy, we prefer to leave our home during time of booking. I love communicating with guest through Swimply messaging if you have any questions or request. We offer a private portable restroom for pool guests use. We hope you and your family enjoys our private oasis as much as we do!"
Megan A. shared that she and her family "had a super fun afternoon with our daughter - lots of fun pool floats, awesome slide, and just a beautiful secluded space!"
If you need the perfect vibe, I had to share the best one for last.
"Conveniently located off of Cascade Rd in between Spaulding and Forest Hills Ave, close to I-96. This large pool has plenty of room to relax, street parking ad privacy. Beach towels, Amazon echo dot speakers, pool toys, goggles, life jackets, and Wi-Fi are provided for free upon request. We keep our pool at 80 degrees minimum. If you'd like the heater turned on, please let us know. The restroom, with shower, is located steps away from the pool in our private, walk-out basement. There is also a refrigerator and a private changing room. Come relax and enjoy!"
You can also use the Weber 4 burner grill with propane tank grill for an additional $25 per hour.
Have a great summer pool party babes!
Chill at These 12 Pools and Waterholes in the Lansing Area
There are options locally for you to swim and cool off. Visit these local pools or lakes to take a dip.
This Michigan Airbnb Has an Indoor Pool + Lots of Extras
Typically, winter doesn't mean taking the kids swimming or relaxing by the pool. But this
unique Airbnb
(which is only about 45 minutes from Flint) features a sauna, tennis court, and yes, an indoor pool and hot tub which can be used year round.