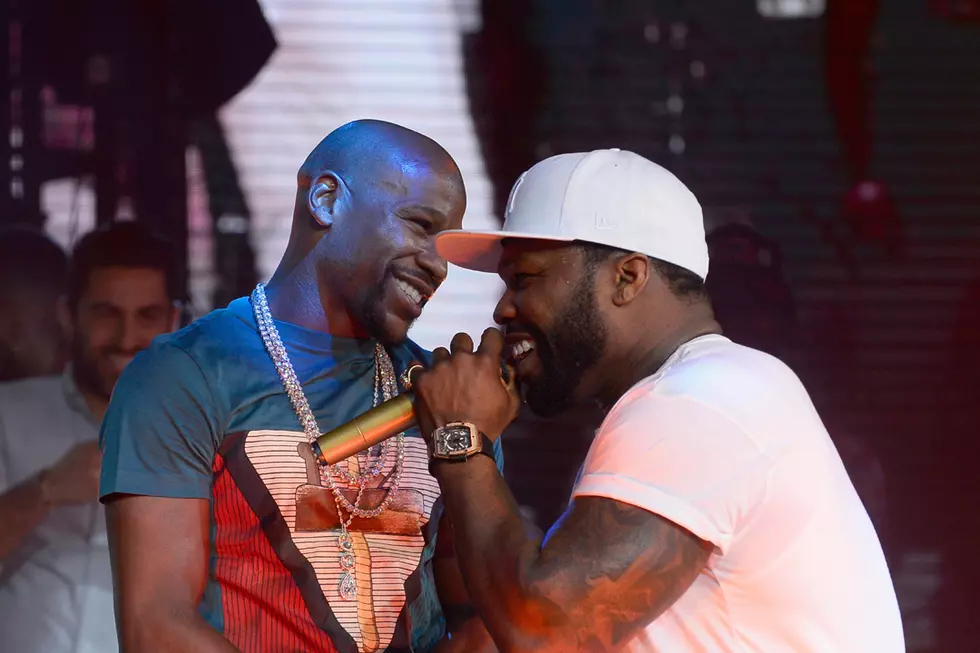 50 Cent and Floyd Mayweather's Beef Gets Worse in New Round of Instagram Disses
Bryan Steffy/BBMA2016, Getty Images
"Curtis "Confidential Informant" Jackson, you're mad because your oldest son Marquees mother doesn't want to be with you!" Mayweather began in the post, which includes an poster parodying 50's Get Rich or Die Tryin' album title (Go Snitch or Die Tellin'). Mayweather doesn't let up there, either.
"Your Son, your own flesh and blood don't want nothing to do with you!" Mayweather continues, seemingly addressing 50's strained relationship with his son Marquise Jackson. Next, Mayweather comes with some remarks about Fif's rap career before disputing the rapper's storied street cred.
"You haven't had a hit song on radio in who knows when and you're definitely not hot enough to even sell records anymore so Interscope dropped you," he writes. "You are jealous of any rapper, athlete or entertainer that's hot or got something going on for themselves. You are a certified snitch and we got paperwork to prove it."
After delivering a series of jabs at 50—which include claims that he lives in a New Jersey apartment with someone else because of his purported financial problems and that he bit Ja Rule's style—Floyd writes that 50 has herpes and that he lied about the details of his famous Coca-Cola deal.
Never one to back down—ever—50 was quick to serve up a few responses. Both clapbacks involved jokes about Mayweather's alleged illiteracy.
"I must have hurt your feelings champ," Fif wrote in his first clapback at Mayweather. "[You]  had someone write a book I'm gonna take my time with this so I get it all out we are gonna start with your 11 Domestic violence cases. Wait a minute I'll do them in order remember you asked for this. get the strap #lecheminduroi."
For his second response to Floyd, 50 posted up a mock rough draft of Mayweather's original open letter about him. Poking fun at Floyd's purported inability to read, several words are mispelled. "Fity cent broke. He got herpies from DJ," reads one part of the IG roast.
While the exact origins of this new chapter of 50 and Floyd Mayweather's beef are extremely unclear, the two did recently jump back into more public feuding with one another. Back in May, 50 Cent called out Mayweather for working with Teairra Mari, a singer who is suing the rapper for posting an explicit image of her on his Instagram account.
From that point on, 50 posted screenshots of text messages he and Floyd had exchanged, and we could see that Floyd was calling 50 out for his own past alliances with people in conflict with him. After this last series of IG posts—all of which were from 50—things seemed to quiet down a bit on the Floyd versus 50 front. Obviously, that was until yesterday.
Spitting his retaliatory venom in every direction, 50 also made some time to respond to his baby's mother, Shaniqua Tompkins, who seemingly hinted that she was enjoying Floyd Mayweather's shade-throwing session when she uploaded an image of Usher sipping some tea onto her social media stories. Tompkins is the mother of 50's son Marquise.
"LOL This bum b!tch want in, champ making up shit," 50 wrote in a separate IG post. "When I return the favor he won't recover because I'm gonna tell you the truth. get the strap #lecheminduroi."
In a pretty unexpected turn of events, Fif offered up some potential insight into this latest addition to his on-off feud with Floyd when he responded to a comment posted by 6ix9ine.
In the comment, 6ix9ine wrote, "How can I be part of this beef?" Entertaining Tekashi's question, 50 responded, "@6ix9ine_ he think I got his truck shot up in ATL. Talking about I got herpes he a walking bag of STD's. LOL"
While 50 doesn't get too specific in his 6ix9ine response, he appears to be referring to the time one of Mayweather's bodyguard's was shot outside of a hotel in Atlanta. Mayweather has yet to comment on Fif's response to Tekashi.
Check out 50 and Floyd Mayweather's epic back and forth for yourself below.
Check Out the 2018 Hip-Hop Music Festivals You Need to See