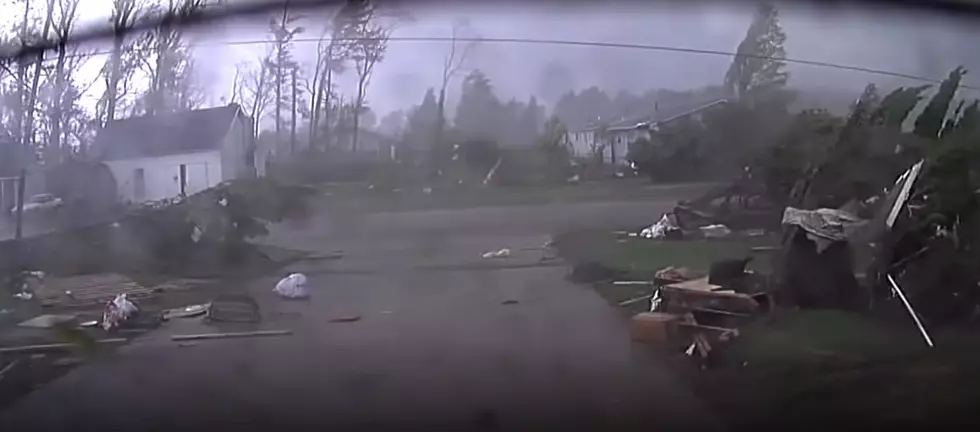 '8 Seconds of Hell': New Video Shows Speed Of Gaylord Tornado's Destruction
Maya Ingles via Twitter
This video shows how quickly a storm can go from calm to 150 mph winds. It's scary.
Video Shows How Little Time You Have When A Tornado Rolls In
Ardis and Stephan Huff of Gaylord posted this video of the EF3 Gaylord tornado, demonstrating how quickly that storm brought havoc to the Northern Michigan community last Friday.
The following video was taken from the Huff's rear view in car camera after they pulled into their driveway just as the storm was approaching.
The Huffs told UpNorthLive that the tornado "It only lasted about eight seconds, then I heard the tree fall and I thought we were gone."
That's how quickly things deteriorated as the winds hit 150 mph in the middle of the storm.
Exactly eight seconds of hell. From calm to causing massive damage.
While not as dramatic or as violent as some of the other footage caught in the storm, i think this one illustrates better than any of the others the quick descent into danger any storm of that magnitude can go. It looked innocent, and then all hell breaks loose and debris flies out of nowhere into your yard. Frightening.
Gaylord Tornado: The Latest Developments
A week after the big storm, State Police and Insurance adjustors have yet to come up with a total damage estimate, although one insurance company has already estimated that they will pay out upwards of $10 million.
Michiganders are coming to grips that climate change may mean we have to take torandoes more seriously. Jonathan Overpeck, dean and professor at the University of Michigan School for Environment and Sustainability, told the Detroit Free Press, "The big message from Gaylord is even in northern Michigan, when there's going to be severe storms. Check the radio and see what NOAA is saying ... those types of storms happen pretty quickly, and the impacts can be pretty lasting."
And safety standards for mobile homes may have to be upgraded after most of the worst damage was done in a m trailer park. It turns out, The Mobile Home Commission Act passed decades ago by the Michigan Legislature doesn't require trailer parks to provide a shelter in the storm for residents. State Representative Ken Borton told UpNorthLive, "These people in these mobile home parks are absolutely defenseless."
See Pictures From the Tornado That Devastated Gaylord, Michigan
A rare tornado ripped through the small Northern Michigan town of Gaylord on Friday. The twister left at least one person dead, more than 40 injured, and a trail of destruction to property.