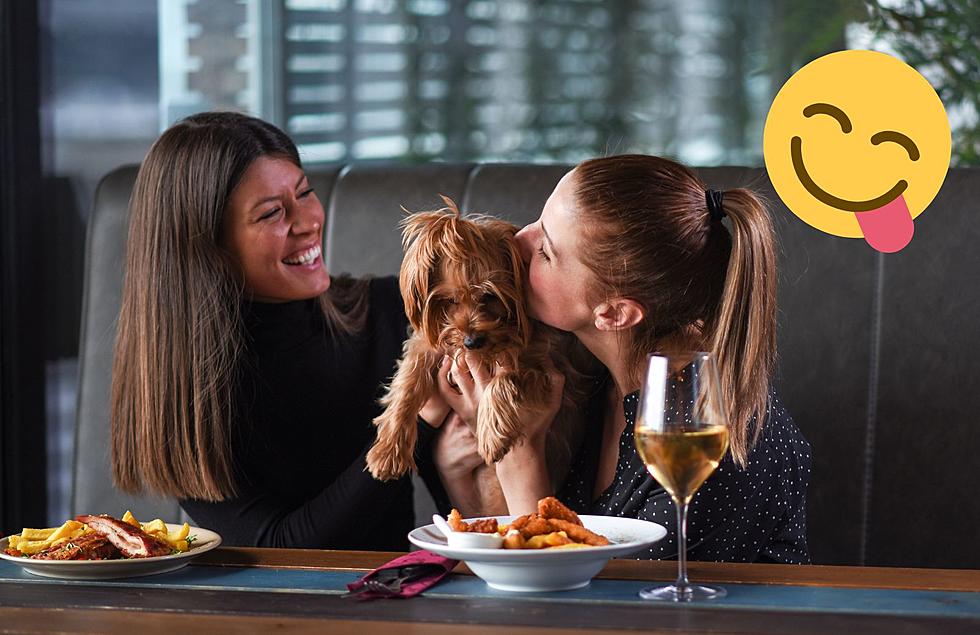 Bring Your Pup To These 10 Dog-Friendly Restaurants in Grand Rapids
Canva
Have you ever gone to a restaurant with your family dog and been turned away?
It is embarrassing, right?
Well here are a few restaurants that are open to having your pups join you for your meal.
The Mitten Brewing Company
Need a quick bite to eat or do you need to grab a beer but you have your pup with you?
No worries! The Mitten Brewing Company allows dogs at their outdoor tables.
Eric loves bringing his dog.
"We've brought our dog here to site on the patio several times. It's great, particularly in the shade. Good pizza and beer. Very friendly staff!"
Sundance Grill
What is not to love about Sundance? They have classic American food with a southwestern twist. Plus, they allow pups to dine with you!
Cassandra says,
"We were right downtown Grand Rapids passing through and stopped with our two husky labs. They were given ice water and pup cups! Love pet friendly patios!"
Lucy's
This quaint restaurant will have you coming back for more after having their Crab Rangoon Grilled Cheese.
Derek says that is a jewel on the Northeast side of town.
"In an area of town known more for heavy, traditional breakfast joints, this place is a break from the norm. My dog was welcomed and the waitress brought him drinking water unprompted. Very nice venue at a good location. We will be back."
Tupelo Honey Cafe
Farm-to-table is what Tupelo is all about. If you love sandwiches, chicken and waffles, or American classics, bring the whole family, including your dog.
Theresa's review will have you heading over right now.
"Not only do they have signs up making it's clear that pups are welcome on the patio, but they have a doggo menu, and the servers go out of their way to make sure your puppers are happy! The bacon strips were a hit for my girls 🐾🐾"
Uccello's Ristorante
Grab a table and eat your favorite Italian classics while your puppy is soaking in the surroundings.
Matthew says the servers were so nice to his puppy.
"great dog friendly patio! server brought out water bowl!"
Harmony Brewing Company
Your dog may be a little jealous that they cannot have the beer cheese on the table.
Taurie says,
"had a great time enjoying some pizza with my girl and they even brought water out!"
Village Inn
From Italian favorites to American classics, your dog will be very upset that they are not sitting at the table with you!
Wendy says,
"We were surprised to discover the patio area at Village Inn Pizza. They welcomed our dog with water, and we enjoyed a good meal."
That Early Bird
You can relax with a good cup of joe, tea, hot chocolate, and fresh baked pastry or sandwich at this cozy coffee shop.
If it is a nice day outside, take advantage of the fact that dogs are welcome at the patio tables!
According to Rebekah's review,
"Awesome part of town with really good food. My dog was loved on by workers and people dining as well. Get the biscuits and gravy!!"
The Apartment Lounge
This Grand Rapids bar is dog-friendly for sure!
They allow leashed pets when the outdoor patio is open from late spring to early fall.
Zachary's review says,
"I've been going to the Apartment for years, so when my husband and I adopted our dog, we had to take him with. The patio outdoors is so cozy and our dog lives it! The staff is always excited to see him and make sure to bring water and treats. He's quickly becoming a regular now whenever we take him walking around downtown."
Brewery Vivant
This microbrewery is considered a destination brewery in the "Beer City."
Carleen says,
"This is a fabulous brewery, and while the 'most popular brewery in Grand Rapids' isn't dog friendly, Vivant certainly is. They have a very nice patio out front, which was incredibly dog friendly. They brought our dog a fresh bowl of water, and we had some awesome appetizers and fabulous beer. Cannot recommend this brewery enough!"
If you want a more comprehensive list, Bring Fido is super helpful.
12 West Michigan Restaurants with With Igloos or Other Outdoor Heated Dining
Winter weather in West Michigan can be a bit frightful - but that doesn't mean dining outside in the wintertime has to be!
Here are twelve bars and restaurants in West Michigan that offer cozy outdoor dining inside an igloo, greenhouse, or other heated structure.
Some even have outdoor fireplaces and holiday lights to keep you feeling festive!
Any igloo dining experiences we missed? Let us know and we'll add 'em to the list!