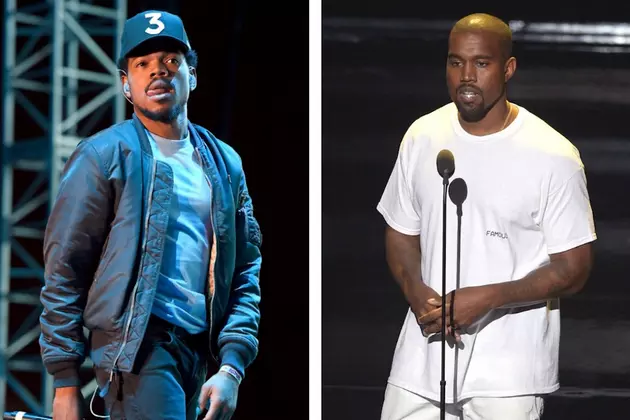 Chance The Rapper Performs His Own Version of Kanye West's "Waves"
Kevin Winter, Jason Kempin, Getty Images (2)
Starting off his tour at San Diego's Valley View Casino Center, Chano electrified the crowd when he began singing his version of the "Waves" hook. "But it never really goes away/That's just the wave," he sings in the brief clip of the performance.
"Waves" isn't the only TLOP track Chance revisits during the course of his show. He also makes time to perform his verse off "Ultralight Beam," while letting the crowd sing out the hook for "Father Stretch My Hands Pt. 1" at a different point of his set. It's all pretty awesome.
On another interesting note, Chano threw some pretty big shade at record labels while he performed his Coloring Book track, "No Problem." In a clip below, Chano parodies versions of Def Jam ("Don't Join") and Sony ("Phony") flashing up on the screen behind him. Pretty funny stuff.
The life of Chano has pretty much been a tour de force of inspiration over the last year or so. A few months back, he broke all sorts of ground when his project Coloring Book—which was released without the help of a major label—managed to win two trophies at the 2017 Grammys. A few weeks after that, he put on the hat of altruistic philanthropist by pledging to donate $1 million to Chicago Public Schools.
Recently, his accomplishments earned him a spot on Time's list of the world's 100 most influential people. In an interesting move, the publication had Chance's fellow Chi-Town MC Common write his entry for the list. For his write-up, Com described the sort of qualities that make Chano a transcendent person.
"Chance upends expectations about what artists, ­especially hip-hop artists, can do. He streams his albums instead of selling them. He makes music from an unapologetically inspiring and Christian perspective—music that transcends age, race and gender. He gives back to his Chicago community. And he does it all as an independent artist, without the support of a label," reads Com's entry.
You can see some of Chance's inspirational qualities at work by peeping clips of his performance below.
See Photos of Chance The Rapper's Different Looks Over the Years