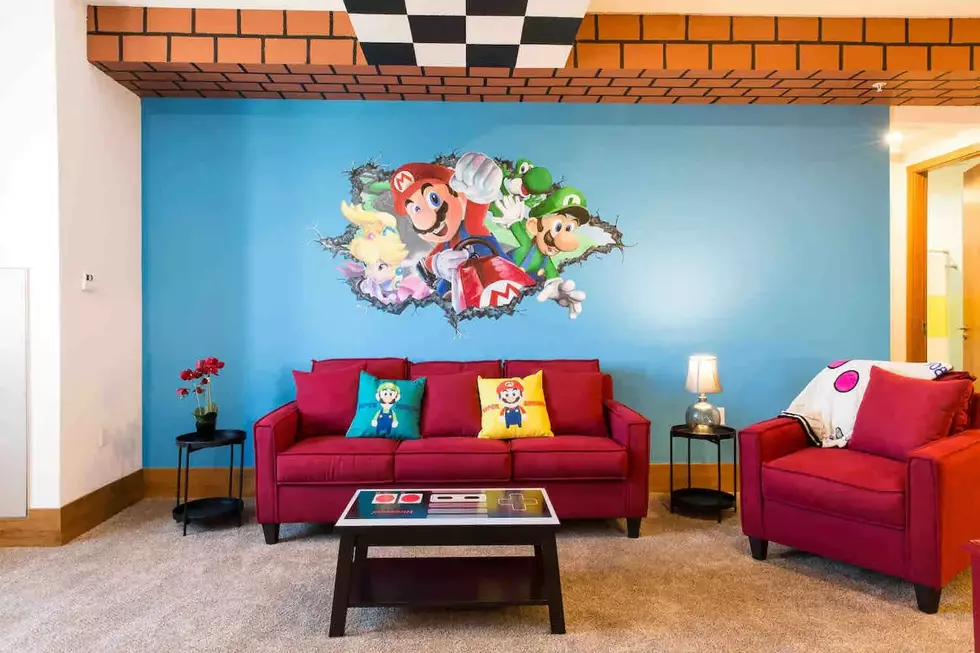 Check Out And Stay At "Super Mario's Manor at The Grand Castle"
Mitten Housing via Airbnb
I love the idea of this Airbnb I came across at the Grand Castle, it's "Super Mario's Manor at The Grand Castle."  I feel like whoever is renting this out is still in the process of creating the "Manor" but it's definitely got a cool vibe to it. I'm so into it, I feel like if my family ever decided to come and visit, I'd definitely try to get this rental for my nephews while they were in town.
"Super Mario's Manor at the Grand Castle" is definitely being created by someone who is a fan of the game, you can tell that for sure. In the living room, there's a 'Mario Kart' mural along with an original Nintendo NES controller coffee table, the ceiling is painted to resemble parts of the game and the adjacent kitchen/dining area has a few light fixtures from the game as well.
It's a two-bedroom/ two-bath rental, with the Master bedroom being a bit more subdued. the kids' room is the real fun "game room" - set up with a cool bunk bed that looks like its blocks stacked along with a few other decorating touches to make it feel like you're a bit in a Mario game and a couple of gaming systems.  The main bathroom is also pretty decorated from 'Super Mario'.
I feel like you could make the washer and dryer look like a "Brick Block" and a "? Block" and the fridge could be green like a tunnel.  Just looking around it's got my creative juices flowing and thinking what a great idea this is...now I want to do this at my apartment.
So if you rent the unit, you also get to use the other amenities at the Grand Castle, including the library, pool, observation decks, and game area during your stay. I also reached out to Mitten Housing who rents out Super Mario's Manor to find out their COVID-19 precautions and they assured me that everyone within their company took a COVID-19 enhanced cleaning course to make sure their rentals are as safe as can be for their guests. They also let me know that they have numerous rentals in Grand Rapids, as well as Ann Arbor, Oscoda, Indianapolis as well as a few connections with Windham Resort properties, so they take the COVID safety seriously.  Currently, if you're working from home and looking for somewhere to get away from your house, they're also offering discounts on both weekly and monthly rentals, so you could live in this gamer's paradise for more than a weekend if you wanted.
Let's take a look around at this cool place.
Check Out This Mario-Lovers Dream Offered on Airbnb