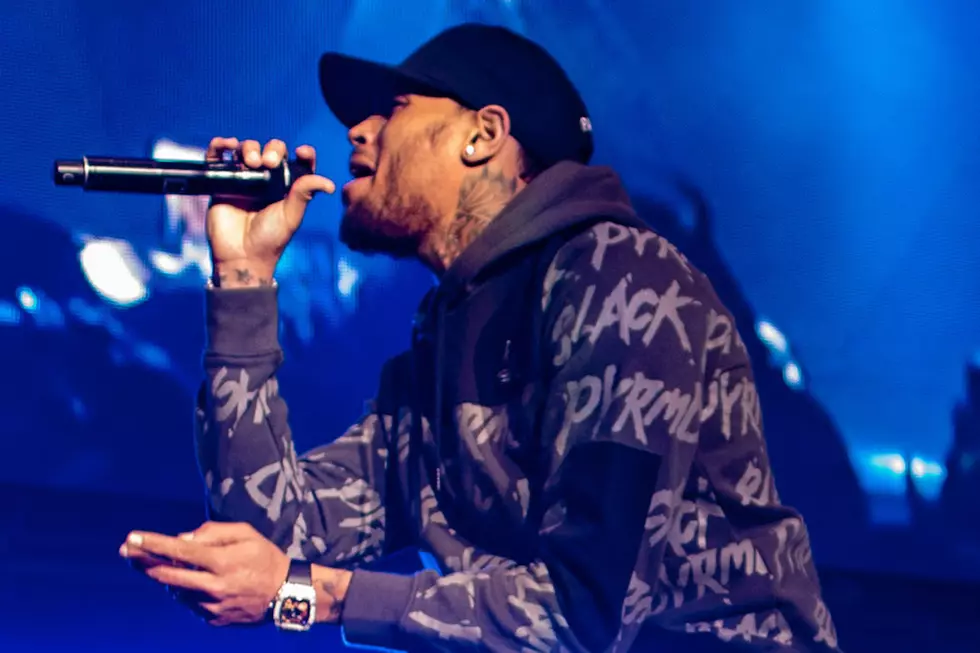 Chris Brown's 'Party' Tour Goes Off Without a Hitch in Baltimore [VIDEO]
Christopher Polk, Getty Images)
Chris Brown officially launched his "Party" Tour in Baltimore on Friday (March 31) and it was a huge success. The R&B singer's trek featured co-headliners Fabolous, O.T. Genasis and Kap G. 50 Cent was supposed to be on the jaunt but backed out at the last minute. More on that later.
According to Rap-Up, DJ Khaled introduced Chris Brown to the stage (via video on a jumbotron) delivering his motivational ad-libs. "They don't want us to win, so we gonna win more," he told the crowd. Brown emerged from the ceiling floating in the air and performing acrobatic tricks. The performance led to Breezy's first song of the night, "Wrist."
From there, it was time to get the party started right. Brown turned the stage to his own private bedroom with his renditions of "Take You Down," "Time for Love," "Back to Sleep" and "Grass Ain't Greener." He even performed his latest sexualized ballad, "Privacy."
Brown also showed off his footwork skills throughout his show as well. At one point, the singer was joined by a trapeze artist for a special choreographed rendition of "Drunk Texting"; and backup dancers assisted Brown on his club-ready bangers like "Kriss Kross" and the show's closer, "Party."
Meanwhile, just days before Brown's tour was about to kick off, 50 Cent backed out, which sparked rumors that Brown couldn't afford him. But that wasn't the case.
The G-Unit leader went on his Instagram page to clear up the confusion. According to 50, scheduling conflicts and other circumstances prevented him from joining Brown's "Party" Tour.
"I would never say my friends can't afford me," he wrote in the caption of a photo of a TMZ story that claimed the issue was about money. "This run wasn't handled correctly, I'm still on set filming Den of Thieves."
Brown's "Party" Tour continues tonight (April 2) in Boston and will hit major cities like Detroit, New Orleans, Miami, Washington, D.C., Philadelphia, Brooklyn, N.Y., and more before it ends in Los Angeles on May 23.
10 R&B Artists That Defined Hip-Hop Soul