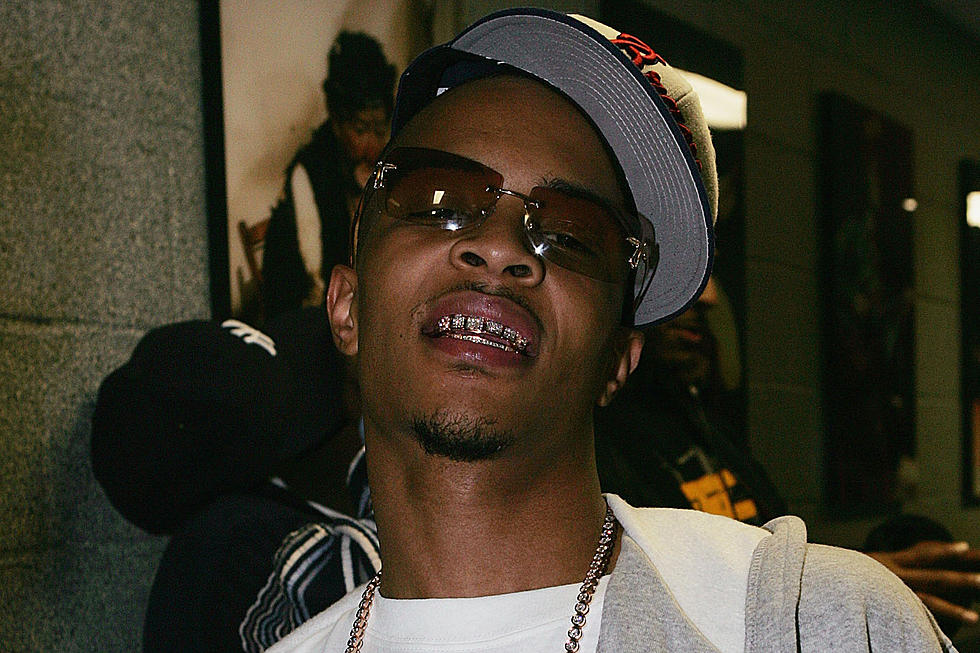 Did T.I. Really Create Trap Music? Three Atlanta DJs Weigh In
Frank Micelotta, Getty Images
In a recent interview with Angie Martinez, T.I. said--among other things--that he created trap music.
"There was no such thing as trap music prior to [T.I.]," he said. "No such thing. It didn't exist. It was OutKast and crunk, like--that's what it was: Organized Noize and crunk."
It's a bold statement but one worthy of further exploration. After all, it's hard to argue that even though the term "trap" existed long before Tip emerged on the scene in 2001 with his debut album, I'm Serious, he pushed it into mainstream vernacular.
Tip's early career—which saw him producing introspective, street-wise rhymes over production that was as groovy and melodic as it was bounce-heavy—certainly owes a lot to Memphis' Eightball & MJG and Houston's UGK and The Geto Boys. Over production courtesy of longtime producers including Houston's Mike Dean, New Orleans legend N.O. Joe and Memphis' T-Mixx, the aforementioned groups created a sound that became a standard for southern tales of street life that were nonetheless laced with vision that extended beyond the block. Ball & G's Coming Out Hard and On Top of the World, Geto Boys' The Foundation and Scarface's The Diary and The Untouchable as well as UGK's Super Tight and Ridin' Dirty—all of which dropped between the mid to late 90s— played a vital, obvious role in shaping a young T.I.'s sound. They even featured on songs with him very early on in his career, and Eightball & MJG were at one point signed to his Grand Hustle imprint.
Of course, as an Atlanta native heavily affiliated with the Dungeon Family and Organized Noize, T.I.'s raw intelligence and penchant for musically drifting outside of the box owes much to those influences as well. In fact, it was Khujo on Goodie Mob's classic "Thought Process" where early utterances of the "trap" were made when he rapped:
"When I was out in the trap or when I was goin' through one of our episodes, only God knows what I go through..."
And as far as the aesthetics for early trap music, you can't ignore the contributions of Cool Breeze and Backbone, both of whom often wove tales of trap life with, astute storytelling over grinding, bass heavy production.
But as for "trap music" no one had labeled their brand of music as such— that is until 2003 when T.I. dropped his sophomore album, and what's viewed as one of his best projects to date, Trap Muzik, catapulting him into rap's upper echelon with songs like "24's" and "Rubber Band Man" over DJ Toomp's production. His street signifying and introspective, sometimes-vulnerable rhymes began earning him comparisons to another rapper known for up-from-nothing drug tales: Jay Z.
However, in subsequent years, "trap music" has evolved, from Jeezy in the early days, to Atlanta rapper Gucci Mane, Memphis' Yo Gotti and more recently, rappers including Future and Travis Scott. And with the passing of time, the sound has inevitably changed. Tip's early musings on "the trap" were infused with cautionary tales, and an almost apologetic stance on the drug game ("Still Ain't Forgave Myself"), the idea that trap life wouldn't be necessary if it weren't for oppressive systems that kept the drug game relevant. But by the early 2010's the music was more likely to include stories of drug use. Heavily influenced by moody midwesterner Kid Cudi's woozy production soundscapes and Gucci Mane's icy persona; trap's second wave was more about celebrating the out-of-body feelings connected with trendy drug use and the luxuries trap life affords. And as of late, yet another version of "trap music" has emerged, one that is largely based in EDM.
So, did Tip create trap music?
We asked three prominent southern DJs to weigh in on the discussion. Atlanta's Princess Cut, who has toured with Oprah and Goodie MOB and is currently a personality/DJ on Hip Hop Nation; DJ Wally Sparks, who hails from Chattanooga but is currently Atlanta-based and hosts several high-profile weekly parties, (in addition to previously being Big KRIT's tour DJ); and DJ DiBiase, Big KRIT's current tour DJ.
We took the convo a step further, delving into the eras, early influences and the overall sound of "trap music."
Tip said in a recent interview that he created "trap music." Specifically, he said that prior to his album, Trap Muzik, it didn't exist. Do you think that's accurate? 
DJ DiBiase: Without a doubt Tip put "trap" on that map. As far as doing it first you had street rappers like Sammy Sam in ATL but as far as putting "trap" on the map it was Tip.
DJ Princess Cut: I definitely think it's accurate to say that Tip created trap music.
DJ Wally Sparks: If he's making reference to coining the term "trap music" then yes, I think that's accurate. As far as his style of rap, that was happening long before he came into the hip-hop scene.
Are there two different generations or eras of trap music? If so, how does 2010s trap differ from 2000s trap?
DJ Princess Cut: There's absolutely more than one generation of trap music. And also there's a new EDM style "trap" music in which the 808's are going crazy but it's more like hip-hop, dance music & dub combined together to turn you up an extra notch. A few artist involved in this movement are Heroes & Villians and Flosstradamus to name a couple.
DJ Wally Sparks: I don't think there are different eras. I do think there was an evolution of the music (not lyrical content) and the term "trap music" got gentrified by mostly white EDM producers and DJs which caused the definition of the term "trap music" to get lost in translation.
DJ DiBiase: Definitely. 2000's trap is about the content and 2010's trap is a sound or production style.
What '90s artists (if any) can lay claim to inventing trap music?
DJ Wally Sparks: If we're talking about the style of trap music that T.I. is laying claim to then you can go back to the early '90s with artists like UGK, The Geto Boys and Eightball & MJG laying the foundation on which T.I.'s early career stands. Also, more recently, you could make a case for Dungeon Family members Cool Breeze and Backbone as purveyors of what eventually became "trap music."
DJ DiBiase: Trap belongs to ATL. As stated before, ATL legend Hitman Sammy Sammy is the only rapper that can claim that.
DJ Princess Cut:  If any '90s artist would claim trap music before T.I., it'd have to be like UGK, Eightball & MJG, or artists that were actually trapped out anyway and had those sounds, who Tip even learned about ghetto stories from.
If T.I. didn't invent "trap music" who did?
DJ Princess Cut: Regardless who thinks T.I. invented trap music or not, Tip put the stamp on it and gave it a label. T.I. and DJ Toomp definitely developed a unique sound and flavor that was untouched in the world,
DJ Wally Sparks: Society. If not for the drug epidemics of the '80s and '90s there would be no one needed to tell the stories of life lived in an institutional trap.
20 Unforgettable Mixtape Moments of the '00s