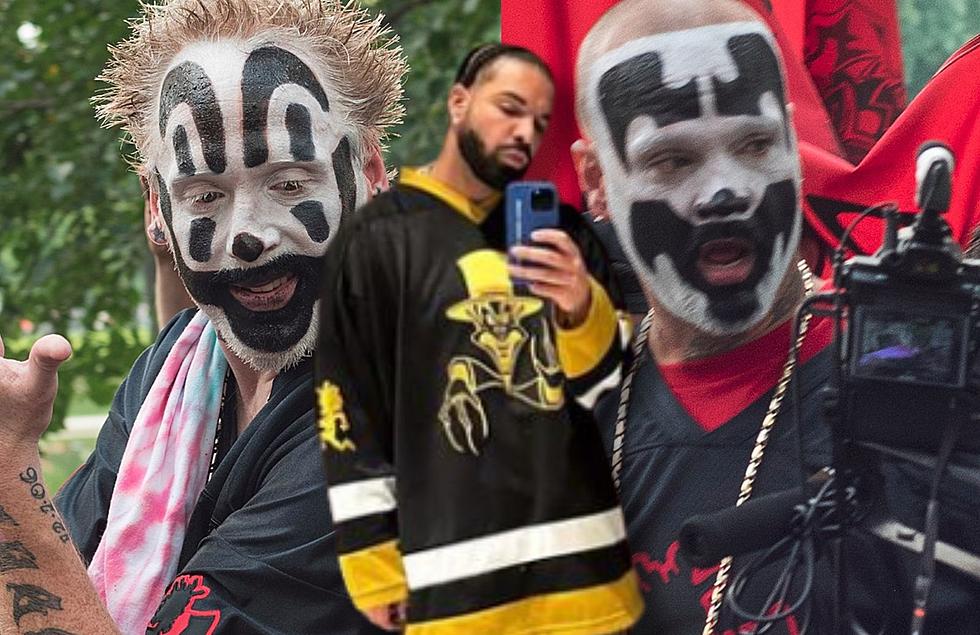 Is Drake A Certified Juggalo?
Canva
Are you a Juggalo? Do you know what a Juggalo is?
Well, if not, just know there is a strong possibility that Drake knows and is one.
Drake
Drake?! Sir?! What is happening?!
From his Instagram story alone, I have to wonder whether Drake knows anything about what a Juggalo is.
It would be absolutely hilarious if Drake has no absolute idea what jersey he is wearing.
Juggalos
If you have no idea what a juggalo is, you are not alone.

Wikipedia says that they are
"a fan of the hip hop group Insane Clown Posse or any other hip hop group signed to Psychopathic Records."
Apparently, Insane Clown Posse calls itself "the most hated band in the world," according to NPR.
Every year, Juggalos come together for what they call, "The Gathering of The Juggalos" or just "The Gathering," which is their own music festival.
"an annual festival put on by Psychopathic Records, featuring performances by the entire label as well as numerous well-known musical groups and underground artists. It was founded by Robert Bruce, Insane Clown Posse, and its label in 2000. The Gathering has featured bands of a variety of genres within hip hop and rock, though the majority of the acts perform horrorcore and hardcore hip hop, similar to that of Psychopathic Records artists"
They had a "Gathering" this year from Wednesday, July 5th to Sunday, July 9th in Legend Valley in Ohio.
So many artists came to perform like RIFF RAFF, The Sugarhill Gang, Arrested Development, and more.
Other Celebrities
While I have never heard of this group or their festival, plenty of other celebrities have performed at the annual festival.
Busta Rhymes, Ice Cube, and MC Hammer have all performed at this festival. So, it should be no surprise that Drake is wearing a jersey of a juggalo.
See Drake's Wildly Expensive Air Drake Merch Line