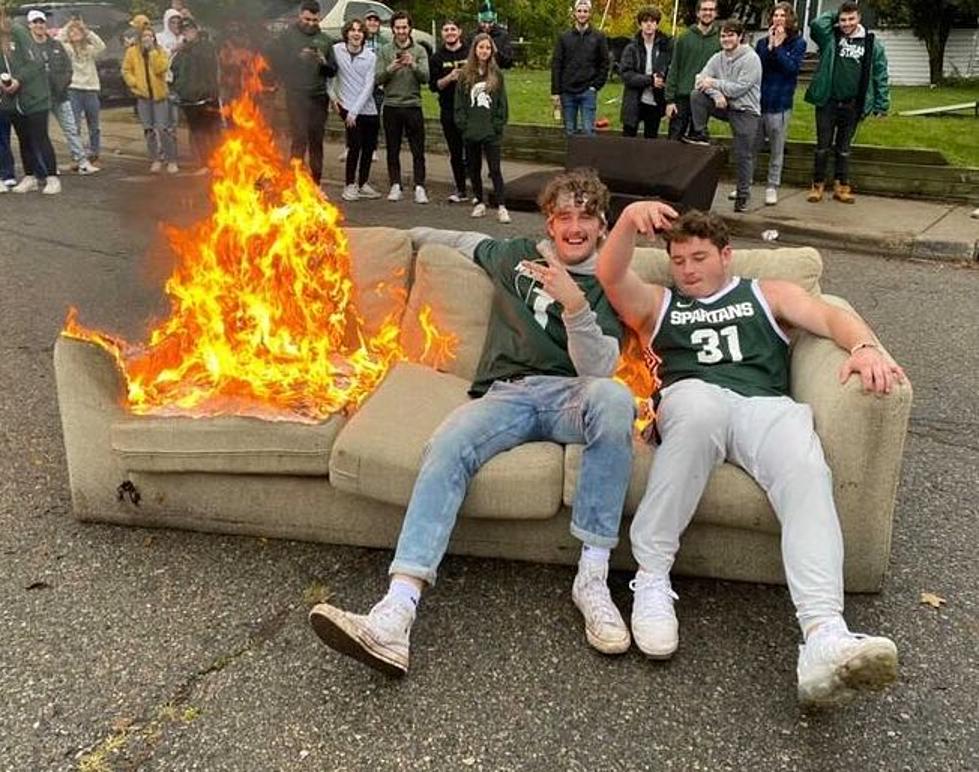 East Lansing Police Need Your Help To Catch These Couch Burners and Car Flippers
ryanjarl IG
Police in East Lansing are turning to social media for help catching people that set couches on fire, flipped over vehicles, and destroyed property.
After Michigan State beat Michigan 37-33 on Saturday, October 30th students took to the streets to celebrate the big win and burn a couch or two. Now East Lansing Police are looking to catch those responsible for the destruction of property and bring them to justice.
Taking to Facebook the East Lansing Police Department said:
It is unfortunate that this post needs to be made, but we need your help. We are reaching out to the public for assistance with identifying suspects responsible for the destruction of property after the MSU vs. UofM football game on 10/30/2021.
Nice Shot! Michigan Marching Band Trolls Ohio State In Beer Pong Video
I had seen some photos and clips of videos in the days following the game, but some of these are new and it's CRAZY to see them actually tipping that car over! While I bleed green and white, this type of behavior isn't exactly becoming of the Spartan faithful. Hopefully some justice can be served and police will track down some if not all of the people who caused destruction in East Lansing on Saturday.
Anyone with information is asked to call (517) 319-6834.
Top Michigan-Made Products You Can't Live Without
Here's what Michiganders said they can't live without
The Top Things You Can Do In Lansing In Doors On A Rainy Day
In a state where cooler temperatures are more prevalent than warmer ones, what exactly can you do on a snow day, or even a rainy day? We've compiled a list of the best spots in Lansing you need to check out.
19 Red Flags to Watch Out for From Anyone Claiming to be a True Michigander
If someone says any of these statements to you, run. They are not a true Michigander, even if they claim to be. Now, some of these statements may seem innocuous, but really they are HUGE red flags to anyone who knows better.