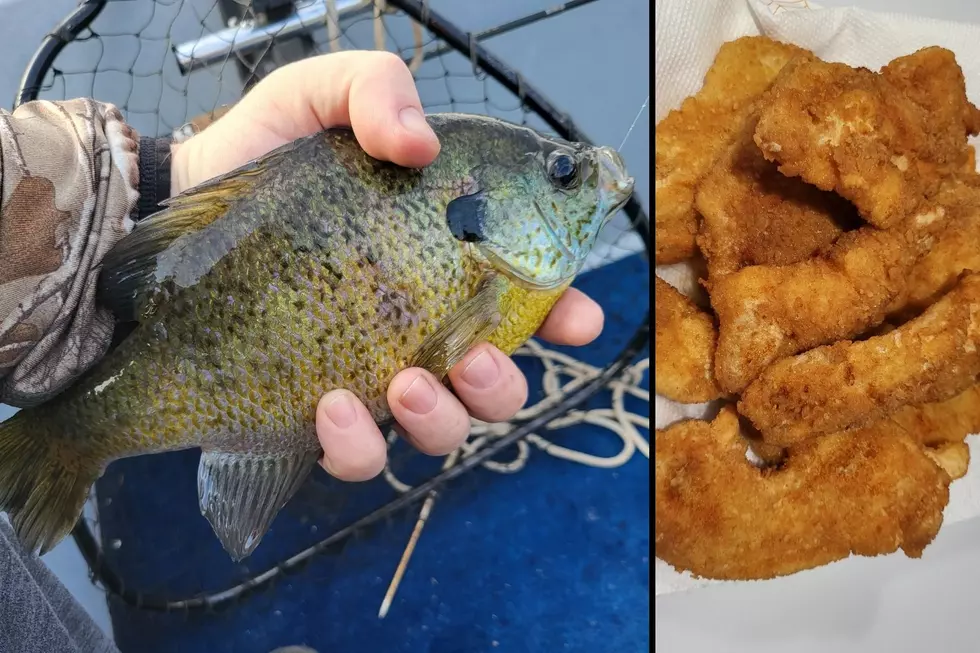 Easy Homemade Fish Batter Recipe That is Pure Michigan
Tommy Carroll/TSM
Here is an easy fish recipe that can be used for all kinds of fish caught here in Michigan along with a few other uses.
Catch Some Fish
In order to make your fish batter, you're gonna need a batch of fish to put it on.
First things first, I didn't make up this recipe, one of my best friends, Curt Brendel, taught me how to make this batter 30 years ago except we weren't eating fish when we used it. I'll tell you more later.
This batter I'm going to tell you about works great on panfish like bluegill, sunfish, crappie, and perch and tastes excellent whether the fish were caught through the ice or in the summer. I will say this batter works really well on walleye, northern pike, catfish, largemouth, and smallmouth bass.
Homemade Fish Batter Recipe
Depending upon how much fish you plan to make will determine how many crackers to crush up.
One pack of saltine crackers will work for about 20 fillets from panfish. I carefully crush them in the actual plastic the crackers come in then dump them into a large plastic bag to finish mincing them to almost a powder. You can decide how fine you want your crackers to be.
I prefer to use saltine crackers but you can use ritz or even club crackers will work too.
You will also need some flour in a plastic bag. You don't need plastic bags, you can also use a paper plate to roll your fillets in but I found the bags are less messy.
It helps to have your fillets in water. For 20 fillets you can use 4 - 6 eggs that you mix up just like you were making scrambled eggs. You can use a little milk if you like but not necessary.
You can also add some other seasonings to your flour, like pepper, garlic, or whatever you like but again not necessary.
Before you batter your fish, this is a good time to heat up the grease in your deep fryer.
There is nothing like fresh oil for your fresh fish. It can also help the taste if the fryer was cleaned prior to use.
Pull a couple of fillets out of the dish with water and toss them into the bag that has flour inside. Shake the bag so the fillets are even covered in flour.
Dip the fillet covered in flour into the eggs until the fillet is covered in eggs.
I prefer to only drop one fillet at a time in the crushed-up crackers. Shake the bag to so the whole fillet is covered.
Refrain from stacking fillets on top of one another so the batter doesn't stick to the other piece of fish.
Once you have your fish battered and the grease is hot, it's time to make your fish. I have a small fryer so I only put in 4-6 fillets at a time depending on their size.
The fish will start floating to the top and you can decide on how brown you want your batter before removing them to a paper plate with paper towels on it to absorb the access grease.
I usually try one of the first ones to come out to make sure everything is cooking properly, at least that is what I tell people so I can get a head start on these delicious bluegills.
Other Uses for the Homemade Fish Batter
The first time I ate this batter that my buddy Curt turned me on to was when we were cooking up some grouse and walleye cheeks. Grouse taste great in this batter, they are like little grouse nuggets.
I can't say walleye cheeks without explaining a little further. In the area just behind and below the eyes there are cheeks that you carefully use a fillet knife to scoop out and then trip off the skin with the scales and it makes a perfect nugget shape. It takes a lot of walleye cheeks to make a nice batch but they sure are good if you can pull it off.
Believe it or not but deep-fried turkey chunks in this batter are pretty awesome also.
SEE MORE: Easy 5-Ingredient BBQ Chicken Pizza
UP NEXT: 7 Foods Michiganders Eat When It's Cold Outside