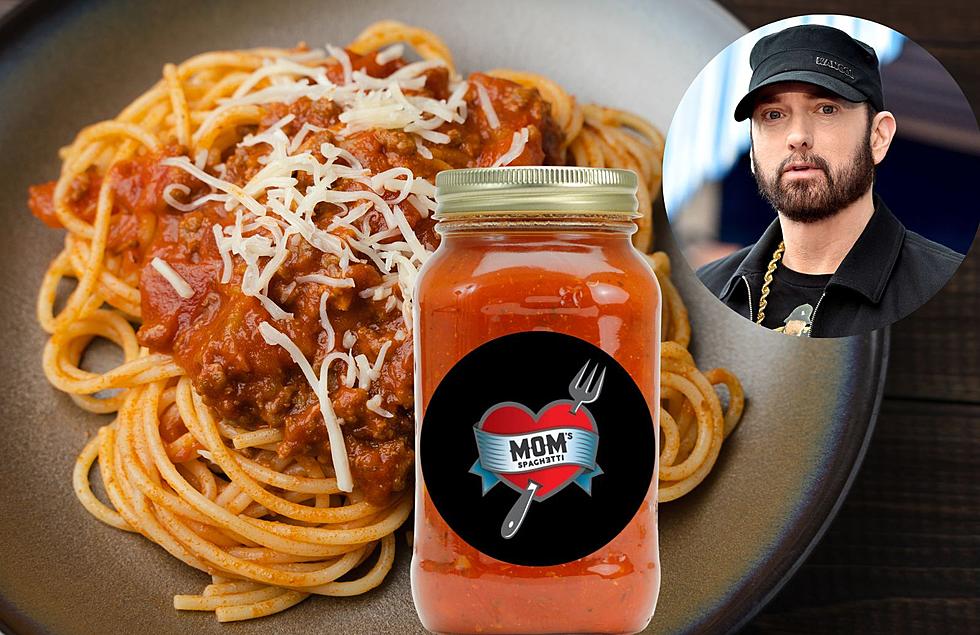 Michigan Native Eminem Will Soon Sell Mom's Spaghetti Sauce in Jars
Canva
Ever since Eminem announced Mom's Spaghetti, I have been meaning to check it out in Detroit.
However, there is a chance that you can have the experience right in your own home.
Now, you may not have to drive to Detroit to snag some of the coveted food.
Eminem & His Mom's Spaghetti
On Tuesday, October 24th, Eminem released a new advertisement on his Instagram that announced that the sauce from his Mom's Spaghetti restaurant in Detroit will be sold online!
Mom's Spaghetti is located on 2131 Woodward Ave, Detroit, MI 48201.
In the ad, Slim Shady's iconic 2009 track, "Drop The Bomb on 'Em" was playing as bottles of the sauce and pails of spaghetti slid down the screen.
One of the bottles smashed into a table with the tagline: "The Sauce Is Dropping."
To end off the announcement, the rapper captioned the Instagram post with
"From the D 2 ur kitchen #momsspaghetti sauce is dropping 10/26 Link in bio."
Yes! On October 26th, you can buy Enimen's Mom's Spaghetti sauce online in a jar!
Mom's Spaghetti Restaurant
Back in September 2021, Enimen announced that he would be opening a restaurant called Mom's Spaghetti in his hometown.
If you do not know the meaning behind the name, you clearly have not listened to his song, "Lose Yourself."
In the song, he raps,
"His palms are sweaty, knees weak, arms are heavy/There's vomit on his sweater already, mom's spaghetti."
His dreams came true when the restaurant opened on September 25, 2021.
If you want to grab yourself a jar of Mom's Spaghetti sauce, you can check it on the official website, starting October 26th.
You can see the full advertisement below.
Where Eminem Lived in Michigan
You Can Own Eminem's Ex's Michigan Mansion for $1.7 Million Dollars
The Ins and Outs of the beautiful Macomb Michigan mansion left behind by Kim Mathers, the ex-wife of award-winning rapper Eminem, also known as Marshall Mathers.
Gallery Credit: Kinsley Brann Keller Williams Realty Lakeside Zillow