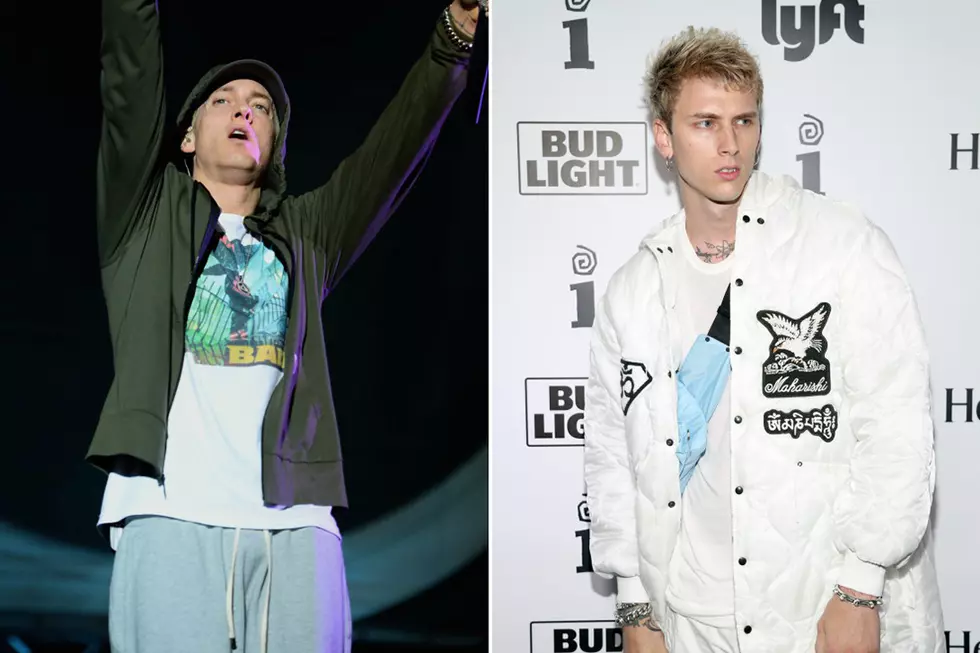 Eminem Decides Not to Respond to Machine Gun Kelly for Now
Theo Wargo / Cassidy Sparrow, Getty Images (2)
Speaking on the topics of the third Slaughterhouse album that never was, his reason for throwing shots at Joe Budden (He's mad Budden called Em's song "Untouchable" trash) and more, Em eventually reiterates his reasons for dissing MGK before explaining that he's going to wait before responding to the Cleveland rapper's "Rap Devil" diss.
"As irrelevant as people say I am in hip-hop, I make them bigger by getting into this thing like—where I'm like, 'I wanna destroy him, but I also don't wanna make him bigger.' Because now you're a fucking enemy. I'll leave it at that. I'm not sure exactly what I'm gonna do at this point right now."
From there, Sway asks Em if he's heard "Rap Devil," to which he responds with an affirmative. Em goes on to say the track is "not bad" and that MGK had some good lines on the song. Again, though, Em isn't really sure what he's going to do with the situation going forward—besides evaluate his options.
"I'm gonna sit back and I'm gonna wait for a second, because if people start firing off and I try to answer every fucking body I dissed on Kamikaze, or had words about, I'ma be going the next five fucking years making diss song after diss song," Em says during the interview.
Check out Em's latest interview for yourself below. The MGK part begins at around the nine-minute mark. Be on the lookout for part three of Em's interview with Sway.
See Photos of Eminem's Different Looks Over the Years