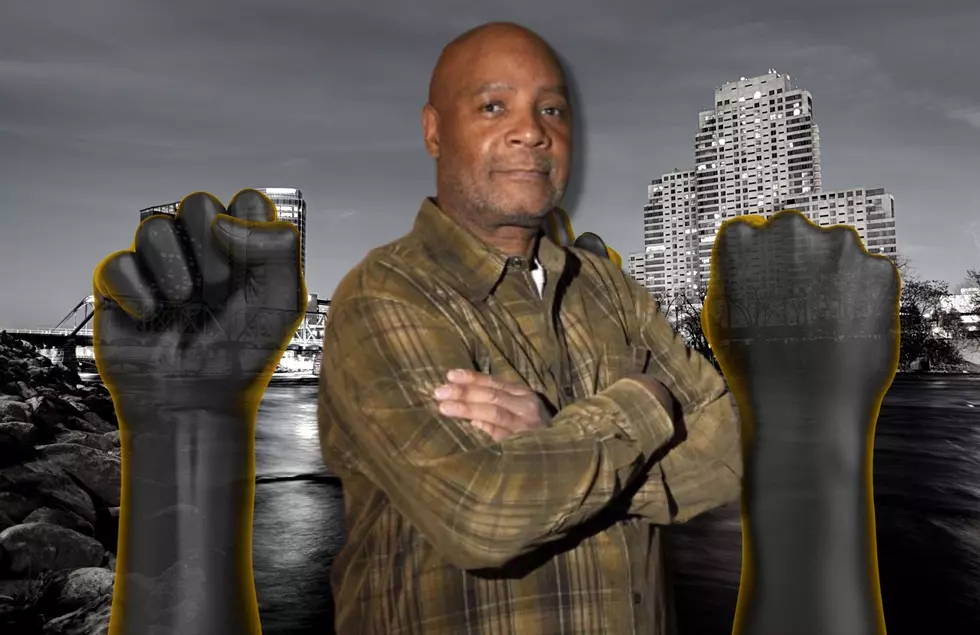 Emory Douglas, Former Minister of Culture for the Black Panther Party Has Grand Rapids Ties
Canva
All month long, the Grand Rapids Historical Society and I will be sharing Black History facts that have taken place right here in Grand Rapids.
If you missed the last one, you can learn about the Four and the Auburn Hills neighborhood.
Today's Blackity Black History Fact is all about Emory Douglas, an artist, activist, and Minister of Culture for the Black Panther Party.
Emory Douglas was born May 24, 1943, in Grand Rapids, Michigan. In 1951, his family relocated to San Francisco, where he continues to live today. Known as a hub for radical politics in the 1950s and 60s, the Bay Area was also deeply divided and segregated. It was the injustices that Douglas observed as a child that informed his political ideology as an adult.
At age 13, he was sentenced to 15 months at the Youth Training School in Ontario, California, where he worked in the juvenile correctional facility's printing shop and learned the basics of commercial printing. His experience in the print shop would be pivotal in Emory's future.
In the early 1960s, during his time as a student of commercial art and graphic design at City College of San Francisco, Douglas made frequent trips to nearby San Francisco State University to see civil rights leaders and activists Stokely Carmichael and H. Rap Brown speak.
He joined the college's Black Students' Association and worked closely with Amiri Baraka, a voice in the black arts movement, to design theater sets. He continued to lend his talents to the Black Arts Movement, creating fliers and other promotional artworks to advertise events held across the city. Passionate, Emory decided to dedicate his work to the fight for Black liberation that was taking shape around him.
In January 1967, Douglas met Huey Newton and Bobby Seale, two young activists from nearby Oakland, who, months earlier, had founded the Black Panther Party. Black self-determination was the Party's primary motivation, seeking to improve the position of underprivileged people of color in America through "whatever means necessary."
The organization initially focused on an individual's right to bear arms for defense against police violence, but its attention eventually turned to social justice issues like free breakfast for school children and fair housing. Seeking to promote their civil rights agenda to a primarily Black American audience, the Panthers developed a newspaper, the first of which Seale created and published in April 1967.
That first issue was simple in layout and design, leading Douglas to offer his expertise in print production, understanding the power that strong visuals could lend to political action as he saw the influence of radical political art like with Cuba's revolutionary Che Guevara. Douglas quickly rose through the ranks of the organization: he was officially named its Revolutionary Artist and, eventually, Minister of Culture, overseeing all aspects of the Black Panther Party's visual identity.
Emory was extremely resourceful. He used simple tools like markers, rub-off type, and texture materials to create his signature style. To keep costs low, each paper was printed in one or two colors—black ink, often with a contrasting bright color. 
His purposefully radical illustrations shined a spotlight on police brutality, depicting law enforcement officers and politicians as pigs, while also portraying Black people bearing arms and defeating their oppressors. Some issues featured images of Black suffering, berating the government for failing to meet the basic needs of people of color across the United States.
Douglas used collage art as a method as well, incorporating photos with text and illustrations to emphasize urgent issues the Party wanted to bring to the masses. The impact and influence of Douglas' designs lived at the intersection of art and activism.
He designed every issue outside of the first issue, totaling 537 newspapers, from 1967 until the Party disbanded in the early 1980s. Emory's work with the Black Panther Party's newspaper inspired the world, taking him and his art all over the world. His art with the Black Panther Party remains the most influential political art of the Black liberation movement. Douglas continues to work as a political artist and activist.
Today, his recognition in Grand Rapids is being set in stone as the local art organization The Diatribe is currently fundraising to build the Emory Arts and Culture Center on Division Avenue, named in his honor.
We extend gratitude to Emory Douglas, for his undying passion and dedication to Black liberation and social justice through his incredibly powerful art and activism. We are reminded we all have the opportunity to play a role in this fight, using our gifts to make a difference, to say something, and to change the world.
Power to the People.
LOOK: 50 essential civil rights speeches
Many of the speakers had a lifetime commitment to human rights, but one tried to silence an activist lobbying for voting rights, before later signing off on major civil rights legislation. Several fought for freedom for more than one oppressed group.
Keep reading to discover 50 essential civil rights speeches.