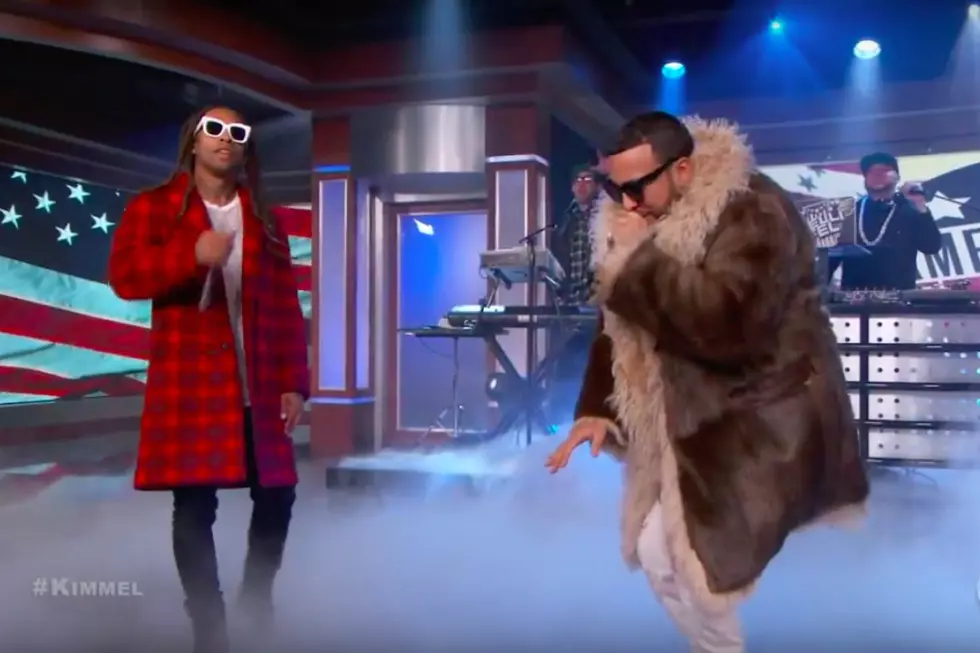 French Montana and Ty Dolla Sign Perform "In My Foreign" With The Americanos and Nicky Jam on 'Jimmy Kimmel Live'
Jimmy Kimmel Live via YouTube
Dolla $ign, donning a red plaid coat and a pair of designer shades, kicks off the three-minute clip, which you can view above. Then, French Montana enters the picture, rocking a flashy fur coat and a similarly expensive pair of sunglasses.
The Americanos handle the production in the background, which also features giant screens with American flags. Nicky Jam comes in around the 1:45 mark, while Lil Yachty is noticeably absent from the performance.
"Fasho she wanna ride, fasho she wanna slide/Fasho we gettin' sauced, fasho we gettin' high," French spits. "Pull up swaggin', hop out the wagon/Suckers gonna hate but the ladies wanna brag/What you say? What you say? What you say?/Whole team faded like Jordan with the J/Cradle to the grave, NY to the Bay/Millions in the bank and the hunnids in the safe."
As aforementioned, you can view the video above via YouTube. "In My Foreign" is the lead single from the movie xXx: Return of Xander Cage, which dropped on Jan. 20. In case you missed it, The Americanos dropped the music video for the record earlier this month.
133 Rapper-Launched Record Labels From the Past and Present