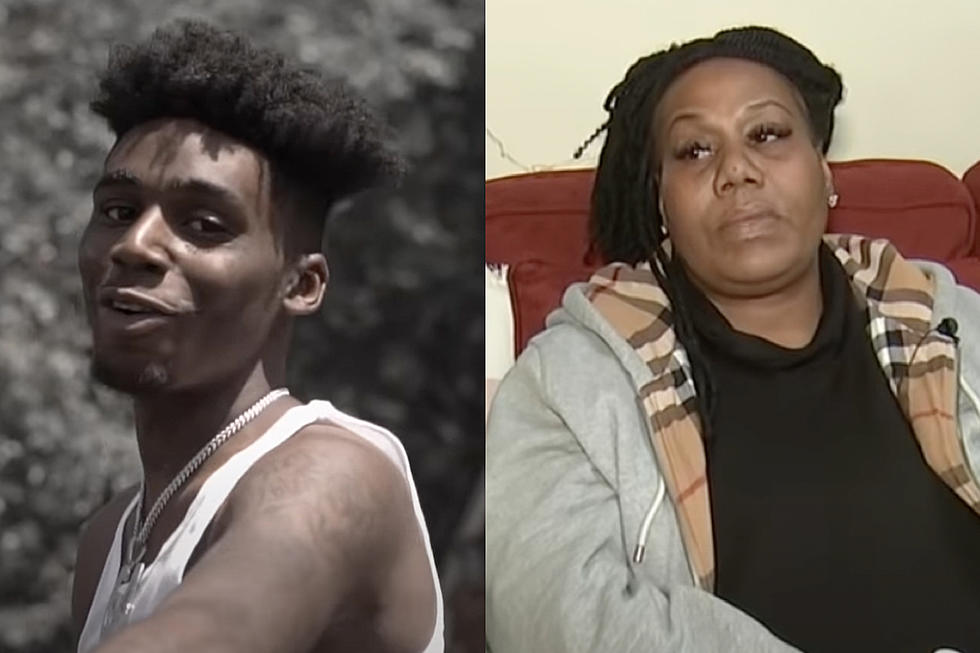 Goonew's Mother Defends Standing His Corpse on Stage for Club Farewell Event
Goonew 64 via YouTube / FOX 5 Washington DC via YouTube
Goonew's mother, Patrice Morrow, is defending her decision to have the late rapper's corpse stand upright on a stage at his farewell event earlier this week.
On Monday (April 4), the late rapper's mom spoke with Fox5DC.com about the backlash she received for having Goonew's dead body on display at his home-going event at Bliss nightclub in Washington, DC, last Sunday (April 3). Clips from the gathering quickly began going viral on social media. The videos appear to show the DMV rapper's cadaver standing upright onstage wearing sneakers, jeans, an Amiri hoodie and a crown on top of his head.
Patrice, who buried her son on Monday, told the outlet that Goonew, real name Markelle Morrow, would want everyone to celebrate his life and not be sad. She also added that her family is not bothered by the negative comments from people who were horrified by the clips circulating on social media.
"For all the negatives, people probably don't even know nothing about us," she told Fox5DC.com. "They have no idea. People just saying what they want to say and that's fine. That's perfectly fine. I'm pleased with how I sent my son away. I wish people would just let me grieve in peace."
The Marrow family said they worked with the funeral home and Bliss nightclub for the event dubbed "The Final Show." They don't regret having Goonew's body on display at the club and reiterated that they don't care what people think about it.
"We're not trying to clear anything up," said Ariana Morrow, Goonew's sister. "We don't care about anybody and what ya'll have to say negative. Nobody. We don't care."
Reps for Bliss nightclub issued a statement to XXL apologizing for the offending images from Goonew's farewell event.
"Our deepest condolences to Goonew's family, friends, and fans," the statement reads. "Bliss was contacted by a local funeral home to rent out our venue for Goonew's home-going celebration. Bliss was never made aware of what would transpire. We sincerely apologize to all those who may be upset or offended. Please keep Goonew's family and friends in your prayers at this difficult time. Respectfully, Bliss DC."
"We celebrated the life of my brother how we wanted," said Ariana about Goonew's farewell event. "My brother was a legend. My brother was a king and that's how exactly how he wanted to go out."
"To clear up the rumors in that place...the critics..it's rude. It's very disrespectful. It's very insensitive," she added, referring to the backlash on social media. "If you don't like it, don't speak on it. Let us grieve how we want to grieve."
Goonew was shot and killed on March 18, in District Heights, Md. His murder remains unsolved.
Watch Fox 5 DC's report on Goonew's mother's response to the backlash over her late son's farewell event below.
See the Current Status of Every Murdered Rapper's Case
XXL takes a look at the current status of the cases of 87 hip-hop murders that have occurred over the past 35 years.