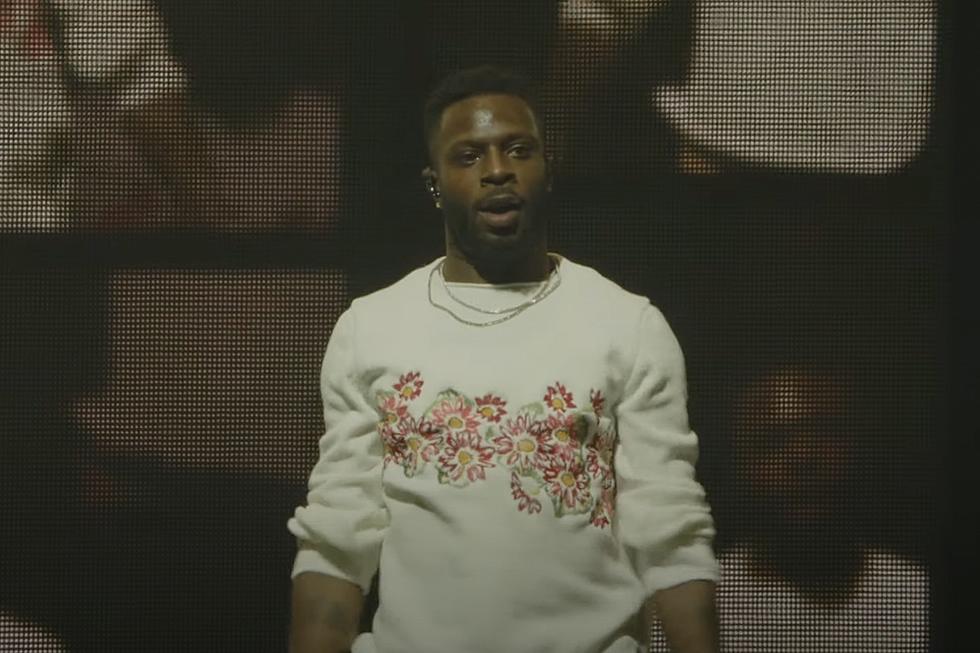 Isaiah Rashad Addresses Past Controversy About His Sexuality at Coachella 2022
Coachella via YouTube
Isaiah Rashad addressed his past controversy about his sexuality at the Coachella Music Festival last night.
On April 16, Isaiah Rashad performed at the 2022 Coachella Valley Music and Arts Festival in Indio, Calif. Before kicking off his set, the Top Dawg Entertainment rapper played a video montage of bloggers, podcasters and YouTubers that reported on his alleged sex tape that was leaked onto social media earlier this year.
The video featured voiceovers from The Game, Joe Budden, Akademiks and others who talked about the alleged sex tape when it made its rounds in February. "The purpose of doing that was to embarrass him. However, it backfired," said one voice in the clip. Another voice said, "When his video leaked, his streams and everything went up. He's up on the charts now."
After the video ended, Rashad kicked off his set with "RIP Young," which is from his 2021 album, The House Is Burning, and then segued into "Wat's Wrong," from his 2016 project, The Sun's Tirade.
The 30-year-old rhymer then paused for a second and glanced at the crowd, who gave him a roaring applause. Rashad, looking very emotional, thanked his fans for their support. "I've seen y'all messages and all that shit, all the positivity. Y'all niggas kept me alive these last couple months," he said.
Rashad also had a couple of surprise guests join him onstage during his set. Newly signed TDE artist Doechii performed "Wat U Sed" and her latest single, "Crazy," while SiR joined Rashad for a rendition of "Rope // Rosegold" from The Sun's Tirade album.
On Twitter, fans celebrated Rashad's return to the stage at Coachella.
"Isaiah Rashad #Coachella2022 set was [fire] to watch he snapped," tweeted one person.
"Isaiah rashad smart af! Didn't let the antics force him to respond out of fear and waited to Coachella on stage to address what happened to him. Kudos to him. He did dat," another fan wrote with a pink heart emoji.
XXL reached out to Isaiah Rashad's reps for comment.
Watch a snippet of Isaiah Rashad performing "Lay Wit Ya" at Coachella last night.
See Rappers Name Their Top Five Favorite Rappers of All Time
Drake, Kendrick Lamar, Lil Wayne and more.