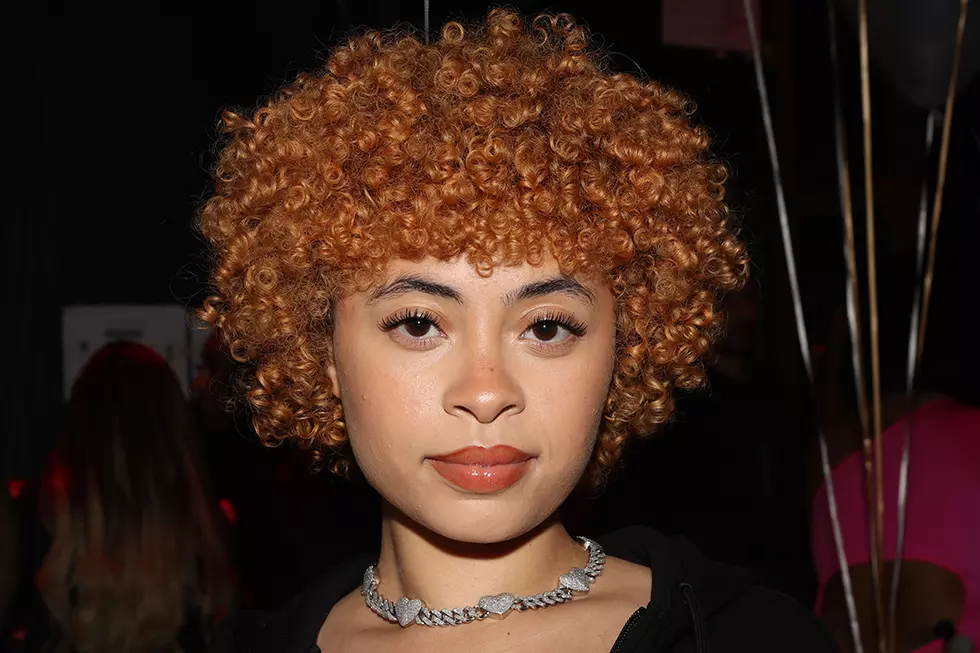 Ice Spice Receives Invitation to Aspiring Rapper's Graduation on Huge Billboard
Shareif Ziyadat/Getty Images
Ice Spice is a hot commodity. So much that an aspiring rapper has taken a creative and presumably expensive route in inviting her to his graduation using a massive billboard.
Rising rhymer Lil Munchy Baby shared a post on his Instagram page on Tuesday (April 25), requesting Ice Spice's presence at his graduation ceremony. The IG post can be found at the bottom of this page. On the large billboard, which sits above a logo for Georgia State University's Georgia Panthers athletics, the invite reads: "Dear Ice Spice: I'm Feelin' U Love Munchy," referencing the Bronx rapper's hit single.
The billboard continued, "You're invited to my graduation on May 5th. RSVP via my DM." Munchy Baby added his Instagram handle, @lilmunchybaby, at the end of the message. He also included a photo of himself, sitting in a throne-like chair, wearing a graduation cap, while holding large-faced bills.
Apparently, Lil Munchy Baby's most recent accomplishment was motivated by some sort of prior legal issues, as he captioned the social media post, "Court ordered to go to school is crazy but I did it and kept my head up high I graduated and actually got a degree finna walk the stage and I need bae there tag @icespice for me just embracing my inner munch."
In a follow up post, which is a short video that also contains an image of the graduation invite, Munchy wrote, "Dear @icespice , I'm feelin U Love Munch Pull up I'm graduating."
Ice Spice's fans are clearly devoted in their support for her, although sometimes the actions might be a tad extreme.
Back in March, a fan of the Like..? artist attempted to jump on stage during her performance at Rolling Loud California.
Then, in February, unruly supporters overwhelmingly swarmed Ice Spice as she rhymed the lyrics to "In Ha Mood" during the Tia Adeola x Bowery Showroom NYFW Afterparty at the Williamsburg Hotel Ballroom in Brooklyn, N.Y.
At that same event, an Ice Spice fan attempted to give her with a bouquet of roses, however the gesture was only met with a smile from Ice.
See the Lil Munch Baby's Graduation Invite to Ice Spice via a Billboard Below
See the Definitive List of Bizarre Tweets From Rappers