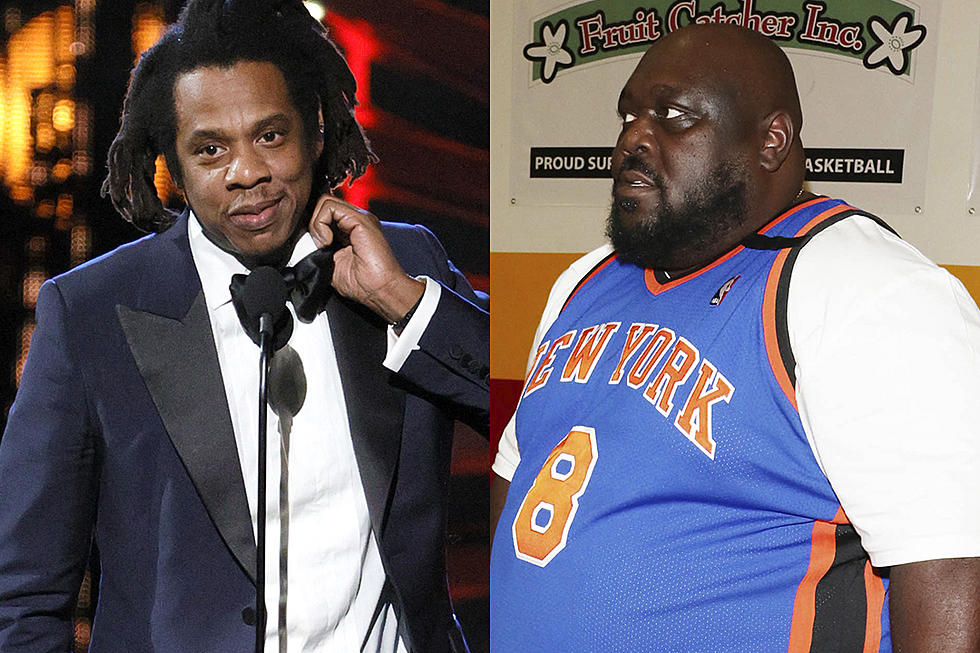 Jay-Z Appears to Respond to Faizon Love Saying Hov Lied About Ever Dealing Drugs on New Pusha T Song
Michael Loccisano, Getty Images for The Rock and Roll Hall of Fame / Wil R/Star Max, GC Images
Jay-Z will always use his masterful rhymes to address any and all smoke that comes his way. This time around, he appears to be coming for actor-comedian Faizon Love.
The latest example of that comes in the form of some new bars Hov spit on the Pusha T track "Neck & Wrist" that appears to take aim at actor Faizon Love following some recent remarks he made about the Roc Nation boss.
In the song that dropped at midnight on Wednesday (April 6), some of Jay's lyrics suggest that he didn't take too kindly to the Friday star's claims that the drug dealer-turned-mogul had never actually sold any drugs at all, which he said in interviews with DJ Vlad back in both July and December of 2020.
"The phase I'm on, love, I wouldn't believe it either/I'd be like, Jay-Z's a cheater/I wouldn't listen to reason either/All I know is he's a felon, how is he sellin'?" Hov skillfully raps on the braggadocious new feature.
The impressive display of wordplay seemingly addresses Love's many claims that Hov's detailed history of running a drug operation is nothing more than an embellishment of his rap persona.
"Jay-Z creates this whole, I'm a drug dealer, I'm a drug lord. These kids... we gotta do it too. To be like Jay-Z," Faizon said in the interview. "Not knowing that this is all made-up shit."
The actor then went on to imply that while Jay was closely associated with known drug dealers such as DeHaven Irby, it was never he himself who took part in any of the dirty work.
Hear the new Pusha T track featuring Jay-Z below here:
Scroll down to also find Faizon Love's most recent interview with DJ Vlad.
At the time, one unlikely rapper who came to Hov's defense was Cam'ron, despite his own widely-publicized disagreements with the hip-hop billionaire.
After Faizon first made his claims in July of 2020, Cam hit up Instagram and wrote, "I know me and Hov haven't had the best relationship (publicly) but Faizon don't know what the fuck he's talking bout. whether legally or illegally niggas got to it."
Faizon Love doesn't appear to have responded to Jigga's verse yet.
See 10 of the Shortest Beefs in Hip-Hop
Beefs within rap that ended quickly.