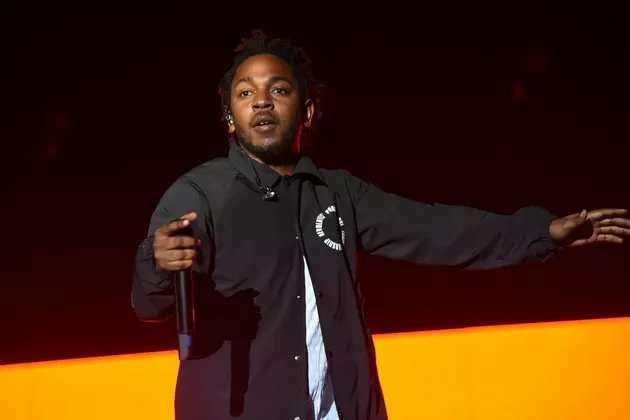 Kendrick Lamar Shares Details on His New Album
Jason Merritt, Getty Images
Look out world, Kendrick Lamar is hard at work on his new album. K. Dot covers the latest issue of T Magazine alongside Tom Waits and Beck, and during his interview for the issue, K. Dot gave some new abstract conceptual details about his forthcoming project.
On To Pimp a Butterfly, which was his last proper album, K. Dot chronicled the struggles of the Black community. On his new album, you can expect him to look at not only the issues facing his neighborhood but also places across the globe.
"I think now, how wayward things have gone within the past few months, my focus is ultimately going back to my community and the other communities around the world where they're doing the groundwork," he said during the interview.
He continued, "To Pimp a Butterfly was addressing the problem. I'm in a space now where I'm not addressing the problem anymore. We're in a time where we exclude one major component out of this whole thing called life: God. Nobody speaks on it because it's almost in conflict with what's going on in the world when you talk about politics and government and the system."
Describing the album as "very urgent," K. Dot asked the T Magazine interviewer if they had a daughter. After, the writer tells the Compton lyricist that they have a daughter, K. Dot goes on to use the idea of accepting the evolution of his own hypothetical daughter as a jumping point to describe the thought process behind his new album.
"This is what goes on in my mind as a writer," he explained to the author. "One day, I may have a little girl. And it's a girl in particular—funny you should say that. She's gonna grow up. She's gonna be a child I adore, I'm gonna always love her, but she's gonna reach that one point where she's gonna start experiencing things. And she's gonna say things or do things that you may not condone, but it's the reality of it and you know she was always gonna get to that place. And it's disturbing. But you have to accept it. You have to accept it and you have to have your own solutions to figure out how to handle the action and take action for it."
K. Dot continued, "When I say 'the little girl,' it's the analogy of accepting the moment when she grows up," he continued. "We love women, we enjoy their company. At one point in time I may have a little girl who grows up and tells me about her engagements with a male figure—things that most men don't want to hear. Learning to accept it, and not run away from it, that's how I want this album to feel."
K. Dot didn't play T Magazine any of his album, and he also didn't say much else about the content of the project. Of course, this only makes us want his newest work even more.
15 of Hip-Hop's Weirdest Album Titles