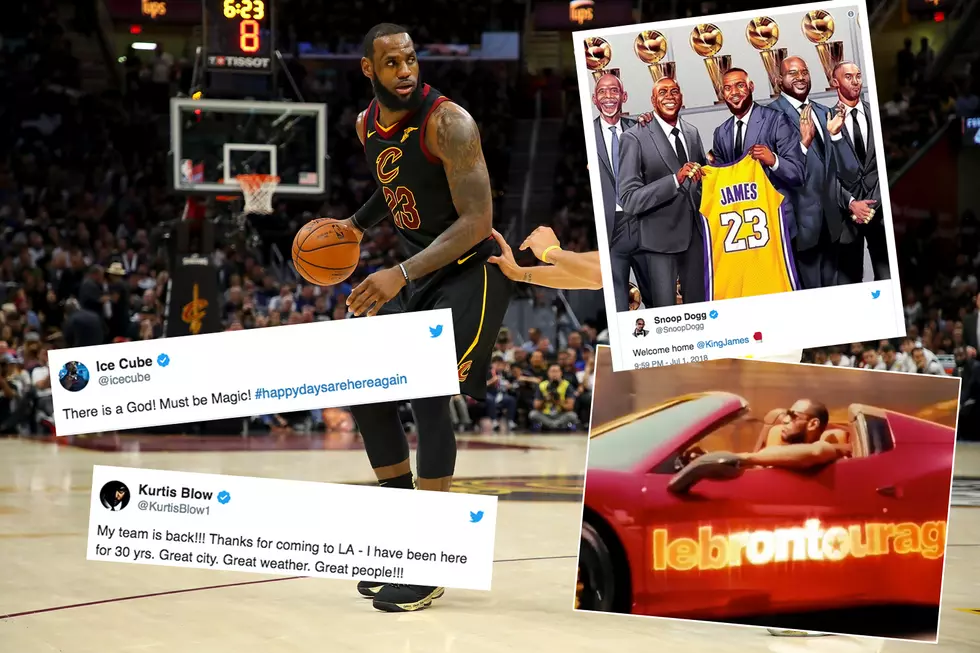 LeBron James Joins the Lakers: Hip-Hop Reacts With Praise & Jokes
Gregory Shamus, Getty Images / YouTube / Instagram
LeBron James is taking his talents to L.A., and hip-hop, like the rest of the basketball loving world, has much to say about it.
The announcement came yesterday (July 1), and will see King James playing with the Lakers on a four-year, $153.3 million contract—his longest deal since 2010.
"Thank you Northeast Ohio for an incredible 4 seasons. This will always be home," the four-time MVP and 14-time All-Star wrote on IG Story about the move.
James isn't just a contender for the GOAT (the Jordan vs. James debate rages on) but he's also now the first player in NBA history to lead a postseason in scoring and switch teams the following off-season. And it obviously isn't just any team, it's the Lakers—one of the most recognizable, storied franchises in the history of the league, a team who's front office is now led by former famed Laker, Magic Johnson.
Hip-hop, naturally, has had a lot to say about one of its favorite player's latest decision. Cali native and Big 3 league owner, Ice Cube, is so happy about the revival of his beloved Lakers that he broke out the exclamation points on Twitter.
And L.A. homeowners like Ludacris are excited about the climb in real estate value— as if prices in L.A. need to get any higher.
Check out some of hip-hop's best reactions to LeBron James joining the Lakers.
Long Beach native, Uncle Snoop, is ecstatic.
Ice Cube woke up in the morning and had to thank God for his good day.
He even had time to respond to folks who insisted he's a bandwagon King James fan. 
So, what you're saying Wayne, is that gangstas don't die, they get chubby and move to L.A. now? (Sorry, Miami).
Chuck D has big respect for the move. 
Even though he's a little sad about the end of the LeBron James-J.R. Smith bromance.
Kurtis Blow might want to consider a gig with the L.A. Conventions and Visitors Bureau.
Luda is overjoyed about his L.A. real estate investments.
Tip is all about the truce between LeBron and Lakers fans. (Uh, but shouldn't he be rooting for the Hawks?)
Premo apparently has the gift of both beats and sight. 
Could Bow Wow have had planted the seeds for this Magic / LeBron union over 15 years ago?
Ja Rule is looking forward to the impending drama between Lonzo Ball and LeBron— you know it's coming. 
Perhaps the only person who's salty? Questlove, who is upset James didn't sign with his hometown team, the Philadelphia 76ers.
Oh, and Oakland OG, MC Hammer, who says the Lake Show still has nothing on the championship winning Dubs.
50 Best West Coast Artists of All-Time