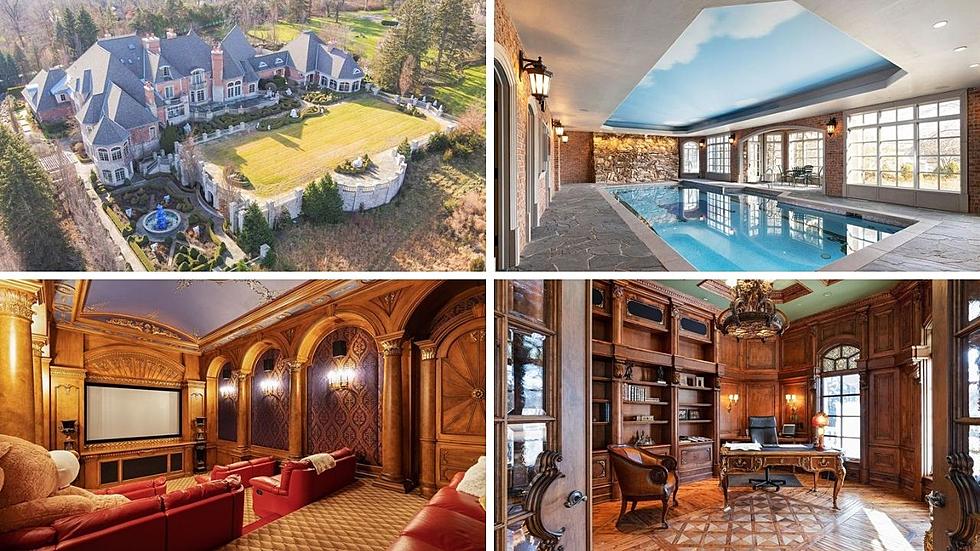 Looking For A House With More Space? This Michigan Mansion Has 118 Rooms
Credit: Realtor.com / Joseph Tiano | Pro-Exposure Photo/ Vito Anthony Homes Bldg Co
Trying to find a starter home or even a reasonably priced home in Michigan right now seems impossible.
There is low inventory and when a good house comes on the market it turns into a bidding war. If you're looking for a house with tons of space, and have a bunch of money burning a hole in your pocket, then you should check out this Michigan mansion that has 118 rooms.
The mansion is located at 1558 Dutton Road in Rochester Hills. According to the listing, situated on 22 acres in Oakland Township, this country estate features hand-carved wooden archways, hand-painted ceiling frescos, and hand-cut stone and gold-leafed accents. The estate is equipped with a live-in suite including full kitchen, two guest homes with additional garages, tennis court, heated conservatory, covered walkway, and immaculate landscaping. Below three levels of living space, a pool, whirlpool bath, dry sauna and two half baths can be found just beyond a home theatre, full bar and kitchen, and ample entertainment space on the lower level. There are a total of 118 rooms, 118 windows & 131 doors, a pavilion, porches, balconies, terraces, conservatory, pergola & gazebo.
More Details About The Mansion
Bedrooms: 7
Bathrooms: 10.5
Square Feet: 16,500 sqft
Lot Size: 22 acres
Garages: 3
Price: $11,500,000
Estimated Monthly Payment: $48,687
Year Built: 2005
This Michigan Mansion Comes With 118 Rooms
If you're looking for some extra space, this 118 room mansion sits on 22 acres in Rochester Hills, Michigan, and could be yours for $11,500,000.
Self-Sustaining Michigan Compound
If the world was ending this is the place you would want to be. Check out this amazing self-sustaining Michigan compound located in Battle Creek, Michigan.
This East Grand Rapids Mansion On Reeds Lake Could Be Yours For $6,000,000