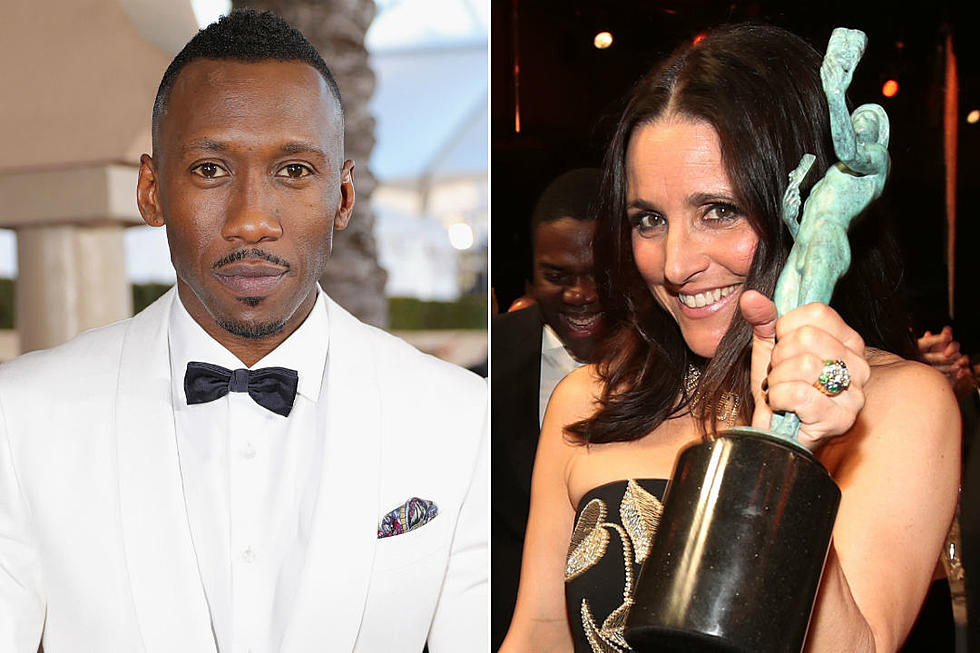 Mahershala Ali, Julia Louis-Dreyfus Denounce Trump Policy at 2017 SAG Awards
Christopher Polk/Neilson Barnard, Getty Images
Before SAG presenters even began handing out trophies, Ashton Kutcher kicked things off on a pointedly political foot, noting "Good evening, fellow SAG-AFTRA members and everyone at home — and everyone in airports that belong in my America...You are a part of the fabric of who we are, and we love you and we welcome you."
And Julia Louis-Dreyfus, who went on to win the Actor for her role in VEEP, described a family history that made her especially offended by Trump's latest bit of hateful policy.
"I want you all to know that I am the daughter of an immigrant," she began. "My father fled religious persecution in Nazi-occupied France and I'm an American patriot and I love this country. Because I love this country, I am horrified by its blemishes and this immigrant ban is a blemish and it is un-American....Our guilds are unions of storytellers who have always welcomed those from other nations, and of varying beliefs, who wish to share their creativity with America. We are grateful to them. We stand with them. We will fight for them."
Moonlight standout Mahershala Ali used his time on stage to press for peace. Ali, a Muslim, himself, said the film made the dangers of discrimination especially real to him.
"I think what I have learned from working on 'Moonlight,' we see what happens when you persecute people," he said. "They fold into themselves. And what I was so grateful about … was playing a gentleman who saw a young man folding into himself as a result of the persecution of his community — and taking that opportunity to uplift him and tell him that he mattered, that he was okay and accept him," Ali said, voice shaking. "I hope that we do a better job of that. When we kind of get caught up in the minutiae, the details that make us different, I think there's two ways of seeing that: There's an opportunity to see the texture of that person, the characteristics that make them unique — and then there's the opportunity to go to war about it."
Taraji P. Henson also felt emboldened by her Hidden Figures role, and said the film delivered a critical message about unity and casting light on those who are sometimes left behind.
"This story is of unity. This story is that what happens when we put our differences aside and we come together as a human race," she told the audience. "We win. Love wins every time."
"I would like to make a plea for everyone, if they can, any money they have to spare, please donate to the ACLU to protect the rights and liberties of people across this country," she said during her acceptance speech for TV movie actress in The People v. O.J. Simpson. "It's a vital, vital organization that relies entirely on our support.
See the 2017 SAG Awards' Finest Red Carpet Looks: