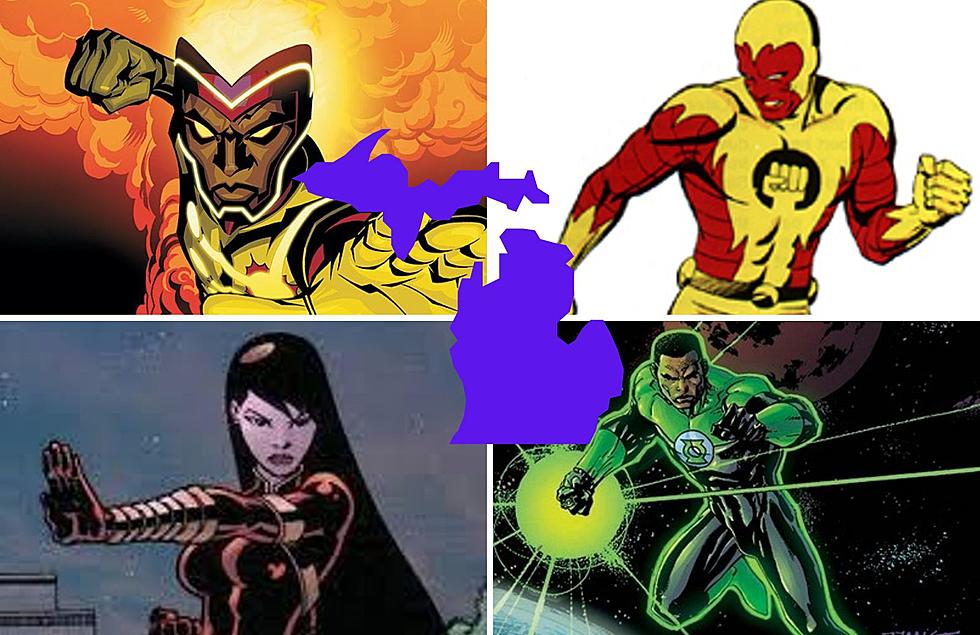 Did You Know These Comic Book Superheroes Are From Michigan?
Canva
Superheroes are all of the rage right now, thanks to Marvel and DC.
Throughout the years, there have been many versions and iterations of different superheroes.
While some are extremely well-known, others are not.
Did you know that there are superheroes that are from Michigan?
Michigan Superheroes
Detroit Steel
With the name Detroit Steel, it only makes sense that this tank of a character is from the Motor City. Steel was created to be a rival for Iron Man and his armor changes color depending on who he is working for.
Firestorm
Like various other characters, Firestorms has different versions. This specific Firestorm is Jason Rusch, who is from Detroit. He is a 17-year-old who was given the powers of the firestorm matrix.
Firebrand
Extremely similar to DC's Firestorm, Firebrand is also a native of Detroit.
John Stewart / Green Lantern
This specific member of the Green Lantern Corp, John Stewart is a Detroit marine who was promoted to the Earth's number one representative.
Lady Shiva
Sandra Woosan aka Lady Shiva is a master of martial arts and a Detroit native. In the comics, she later finds herself in some trouble in Gotham.
Great Lake Avengers
Did you know there are a group of Avengers from the Great Lakes?
While their headquarters in the comics is in Milwaukee, Wisconsin, the members are from all over.
According to Wikipedia, the leader of the Great Lake Avengers, Mr. Immortal, is from Michigan.
As a mutant, Mr. Immortal has the power of immortality. So, he can regenerate his body from any injury.
Marvel Characters
Marvel's Starling and Amulet are both from Michigan.
Michigan Today says that Saladin Ahmed, the writer of the comics, is a Dearborn native.
Starling is an African-American who hails from Detroit. She debuted in 2019's Miles Morales: Spider-Man No. 5. Amulet is an Arab-American from Dearborn He arrived in 2020's The Magnificent Ms. Marvel No. 13.
What other superheroes are from Michigan?
The Worst Marvel Comics Ever
Don't expect to ever see these comics turned into MCU movies, that's for sure...
The Weirdest Marvel Comics Ever Published
Of all the thousands of comics published by Marvel, these are far and away the strangest.