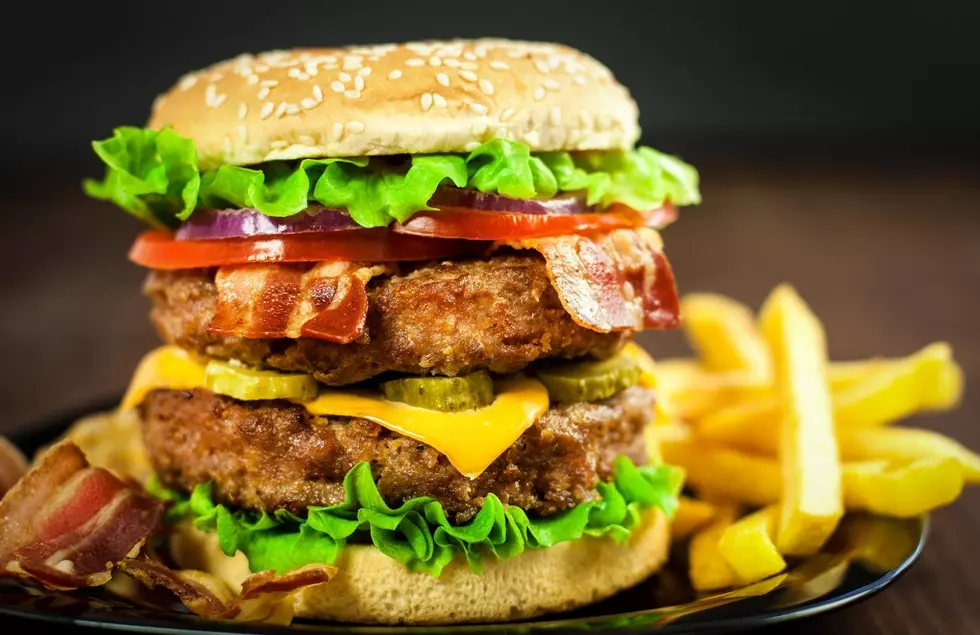 This Michigan Restaurant Serves Up The Best Cheeseburger In The State
Credit: Canva
One of the world's greatest inventions was created back in 1924, The Cheeseburger!
According to The Carnegie Museum of Natural History, a 16-year-old named Lionel Sternberger came up with the tasty idea. His father owned a sandwich shop, and one day in 1924, Lionel put a slice of American cheese on one of his father's hamburgers. He called it a "cheese hamburger."
One decade later, a Kaelin's restaurant in Louisville, Kentucky gave the sandwich the name "cheeseburger," which was trademarked in 1935 by Louis Ballast of Humpty Dumpty Drive-In.
Who Has Michigan's Best Cheeseburger?
As much as I'd love to try every cheeseburger in Michigan and give you my thoughts on this I turn to Yelp and a list they put out sharing the best cheeseburger in every state. According to Yelp, this is how they did it.
We identified businesses in the food and restaurants category on Yelp, with a large concentration of reviews mentioning "cheeseburger," then ranked those spots using a number of factors, including the total volume and ratings of reviews mentioning "cheeseburger" between January 1, 2022 and July 15, 2022. This list looked at businesses in the United States. All businesses were marked open on Yelp as of July 27, 2022. When available, all businesses on this list have a passing health score as of July 27, 2022.

 
Who Serves Up Michigan's Best Cheeseburger?
If you're looking for the best cheeseburger in Michigan according to Yelp you'll find it at Green Dot Stables in Detroit
Green Dot Stables is a harness racing-themed slider bar featuring over 20 kinds of sliders, soups, salads, and desserts, beer, wine, and cocktails.
The Green Dot Stable has over 2,000 reviews on Yelp with a rating of 4.5 stars.
Here's what a local woman named Joan M. had to say.
"This place has been my go-to place to eat for 2 years. They're always so nice and respectful. The food also comes in time. The food also is warm and tasty. I've never experienced anything bad from this restaurant. I definitely recommend it."
Check Out These "Mystery Meat Sliders" They've made at Green Dot Stables
Greek Lamb Burger w/ a Feta Spread & Shaved Red Onion
Cheddar Bison Burger with Sloppy Joe Louis Sauce and Better Made Chips
Andouille w/ Hungarian Peppers 
General Tso Fried Duck Tenderloin w/ Green Onion & Chow Mein Noodles
Crispy Fried Rabbit Tender wi/ a Thyme/Apricot Mostarda
Grilled Hawaiian Pork Steak w/ a Pineapple Bell Pepper Chutney
Grilled Chicken Sausage Patty w/ Pickled Radish & Braised Kale Greens
Fried Chicken Liver w/ Giardiniera & Basil Sauce Gribiche
BBQ Pulled Pork w/ a Spicy Pepper Conserva and a Sweet & Smokey BBQ Sauce
Grilled Pheasant Thigh with Braised Cabbage Salad and Balsamic Brown Sugar Reduction
Shaved Elk Shoulder w/ Rosemary Wild Mushrooms & Whipped Garlic Cream
Smoked Brat with Bramble BBQ and Fruity Pebbles
Ground Duck Burger with Scallion Aioli and Chili Crisp & Oil
Water Buffalo Burger w/ Bell Pepper/Black Olive Bolognese
Oberon Battered Fish & Chips w/ Creole Tarter & Crispy Fires
You can check out the top cheeseburger in every state here
Still hungery? Check out some of Michigan's best burger joints!
UP NEXT: 25 Best Burger Joints in Michigan