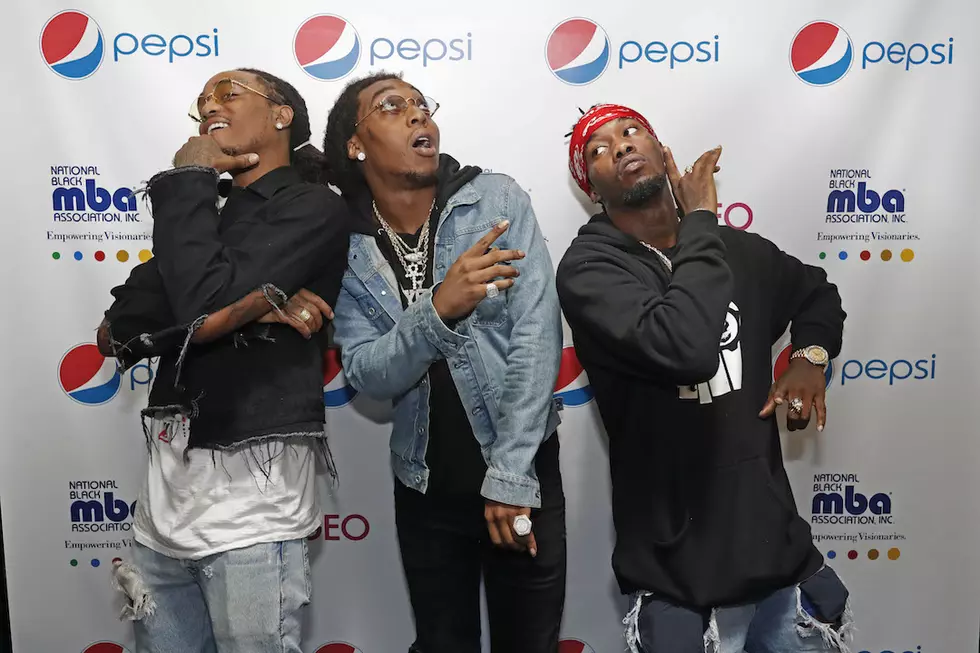 Migos Have Their First Ever Platinum Plaque
Tyler Kaufman, Getty Images
The Migos are having a major moment right now, their new album, Culture, just a day from release. The group have the No. 1 song in the country with "Bad and Boujee," which just hit a major milestone, selling a million units and earning them their first ever platinum plaque. 300 Entertainment posted a photo of the plaque to Instagram on Thursday, a rep from the label confirming that the single went platinum.
The group has had a pair of singles go gold in the past, first with "Versace" and later with "Fight Night," both earning the certification in 2015. "Bad and Boujee" though has outdone both in short order, raising anticipation for Culture as well as the group's mainstream profile.
Those looking to celebrate Culture can do so at New York City's Highline Ballroom, Migos performing a special release date concert for the album. The following day, the three will be at NYU discussing their impact on music, fashion, dance and more, expanding on their album title.
The promo tour for Culture has included a stop at Jimmy Kimmel Live!, where the group was bestowed with the distinction of smoking more than any musical guest, and a performance at The Novo in Los Angeles. While performing "Bad and Boujee" there, Migos really demonstrated their cultural clout, bringing out Chance The Rapper, Lil Yachty, 2 Chainz, YG and Ty Dolla Sign to revel in the glory of their smash hit. Peep the song's platinum plaque up top.
34 Rappers Who Went Platinum in 2016