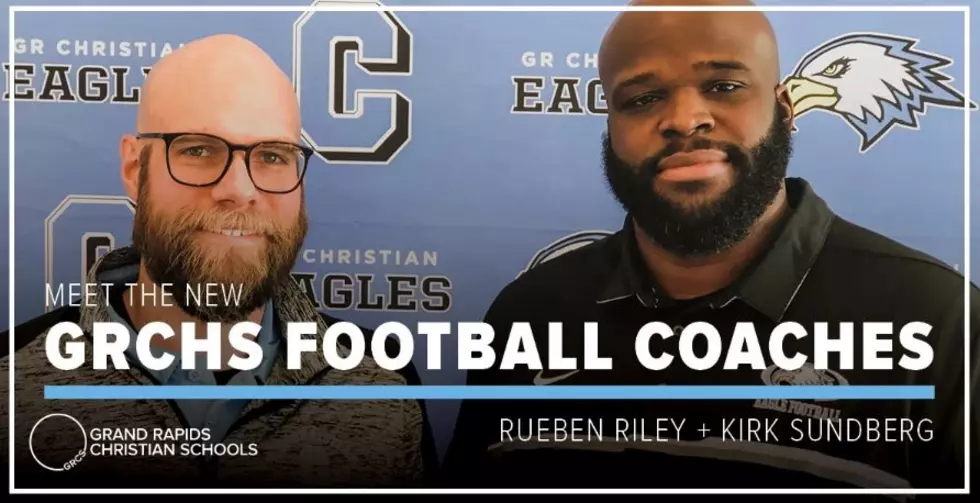 New Head Football Coaches named for Grand Rapids Christian HS
Photo Courtesy of Grand Rapids Christian Schools
GRAND RAPIDS, Mich. - According to a Press release sent out Thursday, February 21, Grand Rapids Christian High School announced Co-Head Coaches for their Varsity Football Program. Rueben Riley and Kirk Sundberg have been hired as co-coaches to lead the program moving forward. This is a new model where both coaches have equal responsibility for the full program.
Rueben Riley- Riley is student life coordinator at Grand Rapids Christian Middle School and was most recently associate head coach of the varsity football team. During his time coaching at GRCHS, the Eagles have compiled a 31-11 record. Riley played college football for the University of Michigan where he was an All-Big Ten selection in 2005 and honorable mention All-Big Ten in 2006. After graduating from Michigan, he continued playing professionally for four different NFL teams. Riley is a 2002 graduate of Creston High School in Grand Rapids.
Kirk Sundberg- Sundberg was most recently a counselor and head football coach at Valley Christian High School in Arizona for two years. After taking over a program that was 3-7 in its previous two seasons, Sundberg was 17-7 with two trips to the playoffs and one trip to the state semi-finals. Previously he was the offensive coordinator at Valor Christian High School in Colorado for seven years, where the team went 83-13 and won five state titles. Sundberg played college football at Wheaton College and is a 2004 graduate of Grand Rapids Christian High School.
"Coaching football extends well beyond Friday night games. The job requires leadership skills that are preparing student-athletes for their future while influencing the student body, parents and families and often the full community on a weekly basis throughout the year," said Tom DeJonge, Superintendent, Grand Rapids Christian Schools. "Grand Rapids Christian High School students come from the entire West Michigan region, providing us with the unique opportunity to teach our athletes to communicate and collaborate."
The two coaches met together with members of the football program today and immediately begin their responsibilities as head football co-coaches.