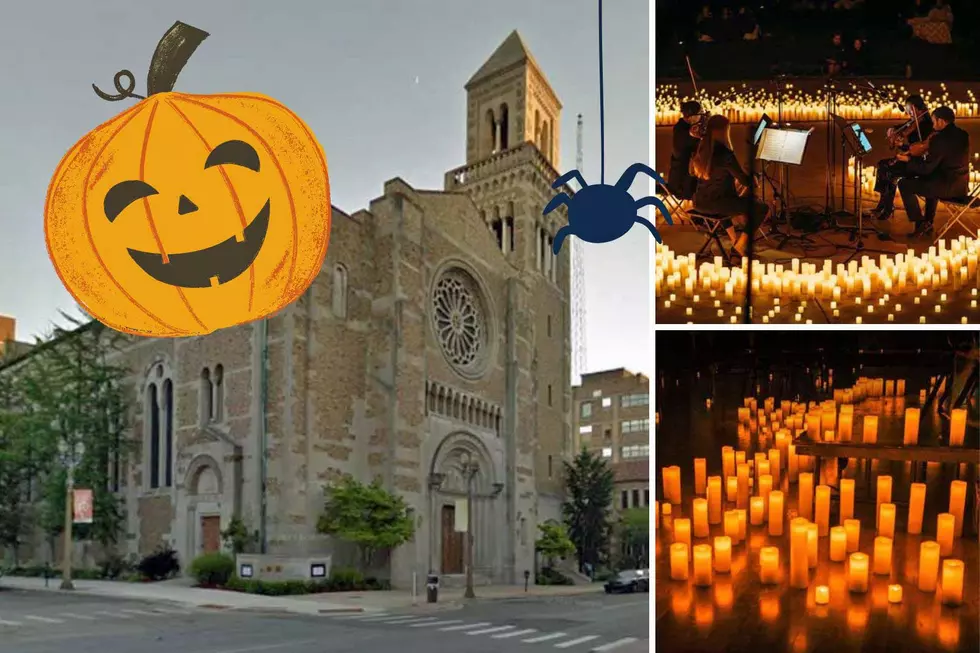 Popular Halloween Songs Performed by Candlelight at Fountain St. Church
Photos: Google Maps, Canva, Fever via Facebook
There is certain Halloween music that gives you a creepy feeling. Imagine hearing that music played by a string quartet, by candlelight, in a church that is over 150 years old.
You will be able to experience that exact setting on Saturday, October 29th, 2022.
The KalHaven String Quartet will be performing some of the great Halloween classics, lit only by candlelight. There will be two performances -- one at 6 pm and another at 8:30 pm. The concerts will be just over an hour in length. This concert is for those 8 and over. Anyone under the age of 16 must be with an adult.
The tentative program includes the following songs:
Thriller - Michael Jackson
Funeral March of a Marionette - Charles Gounod
String Quartet No. 8 in C Minor (Dresden Quartet), Op. 110: II. Allegro Molto Dmitri Shostakovich
Tubular Bells (Theme from The Exorcist) - Mike Oldfield
Stranger Things (Theme) - S U R V I V E
Beetlejuice (Theme) - Danny Elfman
The Addams Family (Theme) - Vic Mizzy
Halloween (Theme) - John Carpenter
Psycho (Prelude) - Bernard Herrmann
Ghostbusters (Theme) - Ray Parker Jr.
Danse Macabre - Camille Saint-Saëns
Night on Bald Mountain - Modest Mussorgsky
Der Erlkönig - Franz Schubert
This Is Halloween from The Nightmare Before Christmas - Danny Elfman
Time Warp from The Rocky Horror Picture Show - Richard O'Brien and Richard Hartley
In the Hall of the Mountain King - Edvard Grieg
Tickets are $30-$55 per person, depending on where you want to sit. Tickets can be purchased online.
Fountain Street Church is located at 24 Fountain Street, NE, in downtown Grand Rapids.
There are also other upcoming Candlelight concerts, including Van Gogh Immersive: The Best of Classical Music on November 5th, Vivaldi's Four Seasons and More on November 19th, a Holiday Special featuring "The Nutcracker" and More on December 23rd. For more information, visit the Fever Grand Rapids website.
13 Unmistakable Michigan Things to Dress as for Halloween 2022
Check out 13 unmistakable, Michigan-based costumes to get your creative juices flowing.