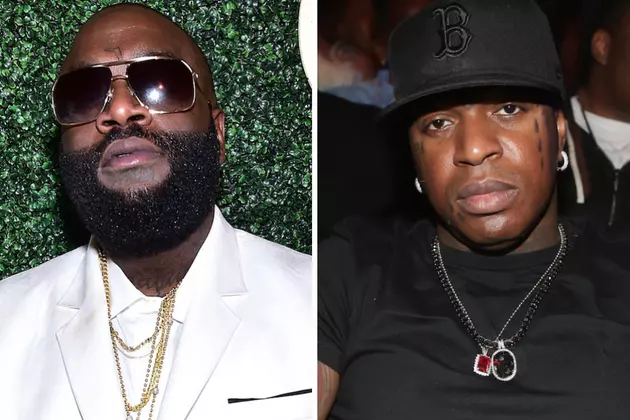 Rick Ross Slams Birdman Over Lil Wayne: 'Shut Up and Pay'
Paras Griffin / Christopher Polk, Getty Images
Hours after Birdman began calling out critics for claiming he was withholding money from Lil Wayne, Rick Ross called out the Cash Money Records CEO.
"Boy, you a year late, and five years late paying that man his money," Rozay said in a Snapchat video. "Pay that man his money. We know you ain't right. Stop with the jokes, nigga. Bring that s---. Bring it."
But the Rather You Than Me rapper didn't stop there. In another video, Ross continued calling out Birman and issued a warning to put him in check.
"That's what's so beautiful about life, it ain't no ceilings. You go far as you want to go. Have no fear," he said. "All that talking s---, nuh uh, all that s--- don't work round here, baby. We'll put you in check, n---a, We'll put you somewhere else […] Shut up and pay n---as."
In an Instagram Live video, Birman addressed the Lil Wayne situation, saying, "I be hearing all you n---as talking about this Lil Wayne s---. Lil Wayne this, Lil Wayne that. B----, Lil Wayne my son. I raised him."
He continued, "B----, you don't think I'm gonna make sure he straight? Suck a n---- d--- b----. I'ma show all you p---- a--- n----s that ever got in my business. F--- ya n***a. I'ma show you don't play with me, n***a. I'm what you call a f---ing real mastermind, you lil' bitty b----. You heard me? And if you cross my line... you already know... I ain't even gotta tell ya. You know what type of n---- I am."
Rick Ross is no stranger to feuding with Birman. On the song "Idols Become Rivals," the rapper addressed claims that Birdman wasn't paying his artists, and name-dropped the CEO on the track.
"I pray you find the kindness in your heart for Wayne/His entire life, he gave you what there was to gain," Ross raps. "I watched this whole debacle so I'm part to blame/Last request, can all producers please get paid?"
Check out Ross' videos below.
What's Beef? 10 Hip-Hop Twitter Feuds