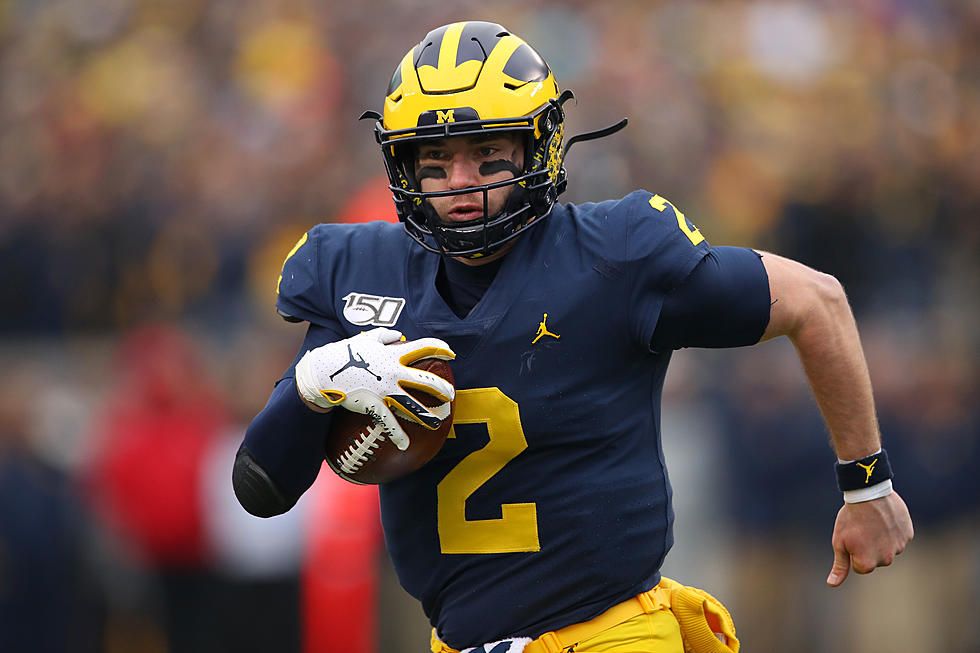 Shea Patterson Is Back To Quarterback Another Michigan Team
Getty Images
The former University of Michigan great will be leading a new Michigan team this spring, even though they won't be playing here. Yet.
Who was the number one overall pick in the USFL Draft?
Shea Patterson, who ran the Michigan offense from 2018 to 2019, was the number one draft pick of the Michigan Panthers of the rebooted USFL Tuesday, and the first draft pick overall for the fledgling league.
The team, which kicks off their season in April, is named after the first USFL franchise in Michigan, which won the initial championship for the original version of the league back in 1983.
Patterson will compete with former NFL first rounder Paxton Lynch, who was drafted in the 12th round by the team.
The reborn Panthers will play all of their games this season in Birmingham, AL, as will all seven of the other teams in the league.
Where the Panthers will play after that has yet to be determined.
Patterson had a storied career at U of M
Patterson became the first quarterback in Michigan history to throw for over 300 yards in three consecutive games, and just the third in team history to throw for over 3000 yards in a season. (The other two are Jake Ruddock and John Navarre).
If Patterson is known for anything in UM football lore, it was his owning of cross state rival Michigan State, who he defeated twice at Michigan, including a banner day in Ann Arbor against the Spartans, when he tossed for a career high 384 yards and four touchdowns in October of 2019.
Paxton Lynch Gets A Chance At Redemption
Lynch, meanwhile, was the number one pick of the Denver Broncos back in 2016. He saw significant playing time in two seasons there, before being released in 2018. He also played for the Seattle Seahawks and Pittsburgh Steelers, before heading north to play in the Canadian Football League 2021, where he was injured while playing for Saskatchewan.
Here's a look a the rest of the Panthers draft board.
Hail to the Victors! These Epic Athletes Hold UM Football Records
The University of Michigan Wolverines lead all other football programs across all divisions in total wins as of January 2021. Here are the record holders within UM.