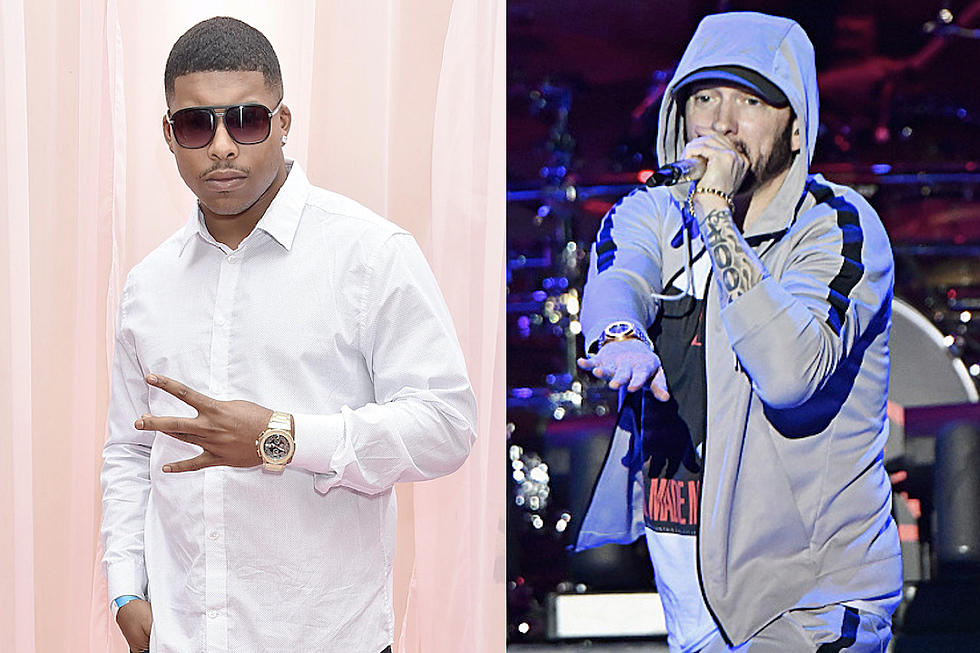 Suge Knight's Son Calls Out Eminem, Claims He's Never Heard Anyone Say "Play That Eminem Song"
Gregg DeGuire / Jeff Kravitz, Getty Images (2)
It seems like everyone has a bone to pick with Eminem.
Shortly after Nick Cannon released his first diss track "The Invitation" on Monday (Dec. 9), which featured a recorded phone call from Suge Knight, the rap mogul's son, Jacob Knight, went on his Instagram page to call out Eminem in several posts.
In one post, Jacob shared a picture of Slim Shady and captioned it, "This guy fucking sucks."
In a video post, Jacob tells his followers, "Eminem fans be like: 'Mom I fucking hate you, bitch. I hate my life.' That nigga fucking sucks."
Then, Jacob reminded his followers of the impact his incarcerated father had on the rap game, while still throwing Eminem under the bus.
"All my life I never heard nobody and I mean nobody ever say 'Play that Eminem song,'" Jacob wrote in one post. In another message, he wrote, "Suge Knight is the reason why we have: Dre Beats, [Eminem]. If Suge didn't exist none of this shit would hahaha."
Finally, Jacob, who is celebrating 24th birthday today (Dec. 10), posted a photo of himself in front of a studio microphone and captioned it, "In the studio getting ready to fucking end M&Ms career," with the hashtag #newdeathrow.
There's no word if Jacob is actually releasing an Eminem diss track.
Meanwhile, rappers 50 Cent and Obie Trice have called out Nick Cannon for disrespecting Eminem.
See Hip-Hop Fans Name The Most Disrespectful Diss Track of All Time