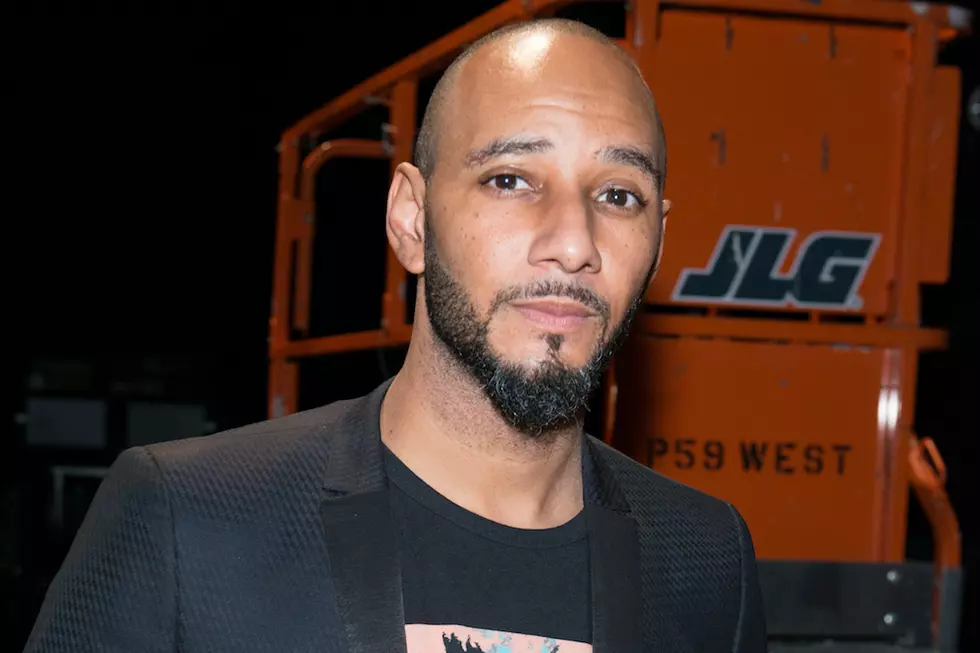 Swizz Beatz Slams Balenciaga for Stealing Ruff Ryders Logo: 'We Must Have a Talk About This Shirt ASAP'
Noam Galai, Getty Images
Balenciaga has become the latest fashion house to get called out for stealing and copying designs. After Gucci was slammed for taking designs from Dapper Dan, Swizz Beatz is now calling out Balenciaga for stealing a 17-year-old Ruff Ryders design.
The piece of clothing in question came from Balenciaga's 2018 spring-summer collection and features what appears to be the famous Ruff Ryders "R" logo but made to look like a "B." On Instagram, the hip-hop producer posted a picture of the original Ruff Ryders shirt which features the same exact pattern as the Balenciaga shirt.
"This is the Ruff Ryders original version from 2000 @balenciaga @vetements_official what are we doing???" Swizz wrote. "Call me back blessings. I Might just want you to open up a fashion school in the bronx or harlem Just so you can give back to the culture! thoughts????"
Users on Twitter also came to Swizz's defense, posting photos of the shirts and calling out the fashion house. "BALENCIAGA ARE Y'ALL SERIOUS STEALING THE RUFF RYDERS 'R' LIKE THIS? THE DISRESPECT! YALL ARE SLUGGISH LAZY STUPID AND UNCONCERNED," wrote one Twitter user.
While Balenciaga has yet to respond to the claims, Gucci eventually came around and said its collection was influenced by Dapper Dan.
"Legendary tailor Dapper Dan @dapperdanharlem influenced the trend by making such custom pieces for his rapper and athlete clients out of logos from famous fashion houses, including #Gucci," read a post on the Gucci Instagram page.
Check out the offending designs below.
center>2017 Summer Festival Guide