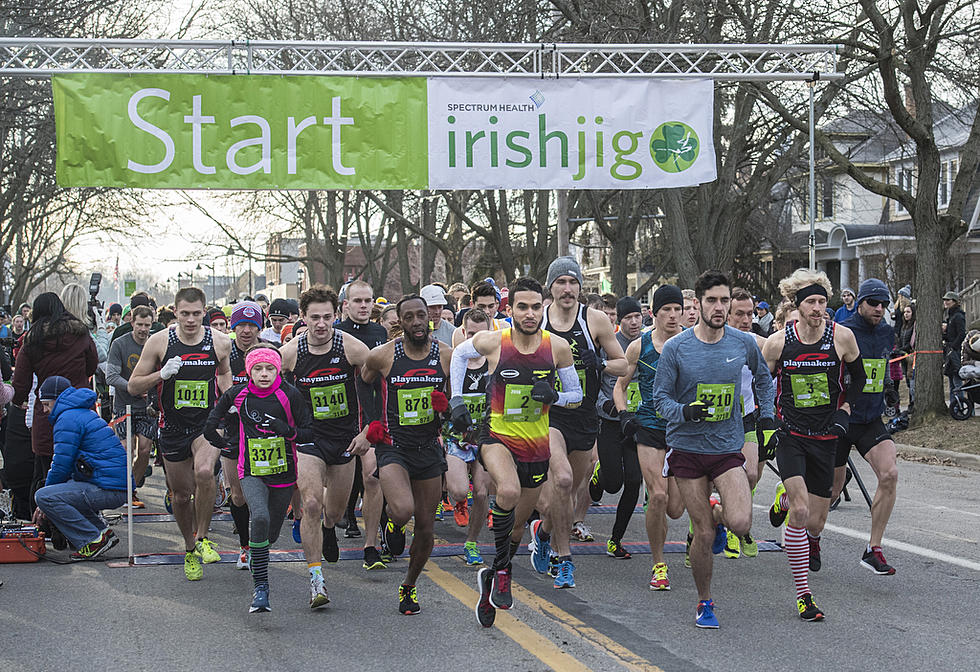 The Irish Jig 5k Is Back In East Grand Rapids
Spectrum Health Beat
The annual 5k run had to take a couple of years off due to Covid, but it returns this March 19 to the streets of East GR.
The 38th Annual Spectrum Health Irish Jig 5k is back for racers and race fans and will take place on Saturday, March 19, 2022, in East Grand Rapids. 
 The Jig was called off in 2020, and never scheduled in 2021 due to Covid concerns.
It is run on a fast, mostly flat course through the streets of East Grand Rapids that attracted Michigan's best runners every March near St. Patrick's Day. This year's scheduled date is March 19. Registration is open online now. 
Proceeds from the race will benefit colorectal cancer awareness. Spectrum health will also return as the race's primary sponsor. 
Top age group winners and qualifying teams receive prizes, and top overall finishers receive cash awards.  Teams must have a minimum of five and a maximum of ten members to qualify for team awards. 
The 2022 Irish Jig will feature a "staggered" start, beginning at 8:30 a.m. Walkers will start after all runners have crossed the starting line at approximately 8:45 a.m. 
Register online for a discounted rate through 11:59 p.m. on Thursday, March 17, 2022. Online registration will close early if participation approaches race capacity of 2,500 participants.  Late registration will be available during event check-in on Friday, March 18 and Saturday, March 19.  All participants will receive a race shirt. 
Runners in the event this year are encouraged to wear blue or green clothing to celebrate health care workers who have worked tirelessly through the Covid pandemic. Participants are also encouraged to honor loved ones who have survived or are dealing with colorectal cancer issues.
Spectrum Health continues to closely monitor COVID-19 and adhere to local, state and federal health and safety standards. Spectrum Health will work to mitigate risks related to COVID-19, which may include changing, postponing or cancelling portions or the entirety of the event if necessary for safety. Participants are expected to adhere to all rules and guidance. 
UP NEXT: Fascinating Bigfoot Reports From Each Michigan County