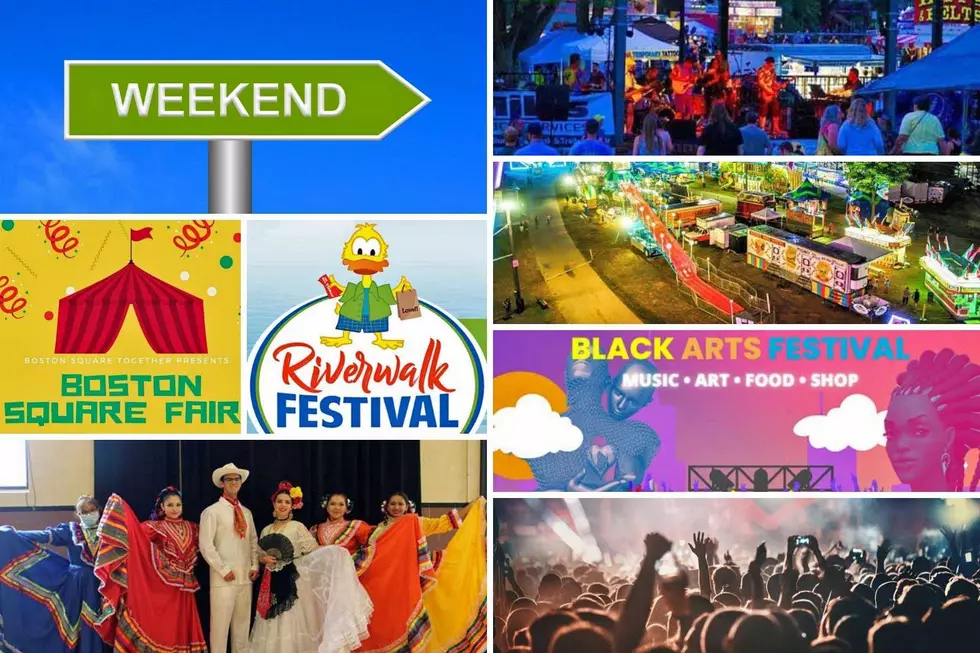 Things To Do This Weekend: July 8-10, 2022
Photos: Canva, Facebook
It was a short week, but here we are ready for another weekend. There are fairs, concerts, art festivals, and neighborhood fairs. Here are 10 different events on the calendar for this weekend.
Monday, July 4-Saturday, July 9, 2022 - Marne, MI
It has been around since 1856 and still going strong. The Berlin Fair will feature rides, 4H animals, Truck and Tractor Pulls, a Twisted P Rode, Draft Horse Pulls, a Corn Hole Tournament, and Music. Get additional information on the Berlin Fair Facebook page.
---
Thursday, July 7-Saturday, July 9, 2022 - Downtown Lowell, MI
The festival includes the State Farm duck raffle, arts and crafts, vendors, food, entertainment, car cruise-in, rumble and the Laurels of Kent fireworks. Plus they have also added bingo, a used book sale, kayak fun, 5k run and walk, and a ducky derby to their 2-nights and 1-day family fun festival held in Historic Lowell! All the details can be found on the Riverwalk Festival Facebook events page.
---
Thursday, July 7-Sunday, July 10, 2022 - Riverfront Park, Niles, MI
The Annual Bluegrass Festival is back for 2022! The Niles Riverfront Optimist Club promises the best offering of live Bluegrass & Americana music and an entire weekend of family fun! The festival will feature vendors with fun, eclectic, unique merchandise, diverse food from lots of food trucks, and children's activities. Check out the Niles Bluegrass Festival Facebook Events page for more details.
---

Friday, July 8, 2022 - 7:30 pm - Van Andel Arena, Grand Rapids, MI
This show was originally scheduled for Tuesday, September 6th, 2022, but due to unavoidable logistical changes, the show has been rescheduled for Friday, July 8th.
After successfully creating the world's first major climate positive tour in 2020, The Lumineers are proud to continue their partnership with REVERB.org, an environmental non-profit, on this year's tour -- The Lumineers Brightside World Tour 2002.
---
Friday, July 8, 2022 - 9 pm - Four Winds Casino, New Buffalo, MI
After more than four decades together, .38 Special continues to bring their Southern Rock to over 100 cities a year. At each and every show, people are amazed by the explosive power of the band's performance. The band has sold over 20 million records and have had hits like "Hold On Loosely," "Rockin' Into the Night," "Caught Up in You," "Fantasy Girl," "If I'd Been the One," "Back Where You Belong," "Chain Lightnin'," "Second Chance," and more.
---
Saturday, July 9, 2022 - Boston Square Parklet, Grand Rapids, MI
This family-friendly event is back for its second annual celebration. It will have live music, a DJ, food vendors, games, and more. The fair celebrates the Boston Square Neighborhood Association's 3rd birthday. More information can be found on the Boston Square Together Facebook events page.
---
Saturday, July 9, 2022 - Holland Civic Center, Holland, MI
There will be live music and performances, delicious food, dancing, a car show and more. This is a celebration of the Latino culture. More details are posted on the LAUP ¡Fiesta! Facebook Events page.
---

Saturday, July 9, 2022 - 8 pm - Soaring Eagle Casino and Resort, Mt. Pleasant, MI
Fueled by singles "Jealous Again," "Twice As Hard," "She Talks To Angels," and the break-through cover of Otis Redding's "Hard To Handle," the Black Crowes immediately took the rock world by storm, topping Rolling Stone's "Best New American Band Readers Poll" in late 1990.
---
Saturday, July 9, 2022 - South Kalamazoo Mall, Kalamazoo, MI
Come experience the 36th Annual Black Arts Festival, which showcases and celebrates local Black artists. For more information, visit the Kalamazoo Black Arts Festival Facebook Events page.
---

Sunday, July 10, 2022 - 7:30 pm - Van Andel Arena, Grand Rapids, MI
Four-time Grammy Award winners and Rock & Roll Hall of Fame nominees The Doobie Brothers are celebrating the 50th anniversary of the band's founding. Tom Johnston, Michael McDonald, Pat Simmons and John McFee are ack on tour together for the first time in nearly 25 years. Special guest The Dirty Dozen Brass Band will open the show.
---