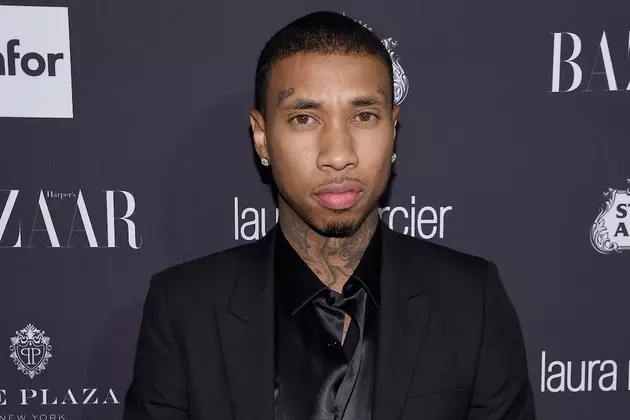 Tyga Sued by Process Server for Entourage Assault
Dimitrios Kamouris, Getty Images
Back in November, Tyga was served with legal papers while hitting the club for his birthday. Now, Tyga is being sued by the process server who handed him the legal docs.
According to TMZ, the process server claims he was assaulted by Tyga's crew after handing the rapper the legal papers. The lawsuit states that someone in Tyga's crew "grabbed, yanked, pulled and choked" the server. You can view a video of the incident below.
Tyga was served as he was walking into his birthday party at The Penthouse nightclub in Los Angeles. A few days later, it was revealed that he was sued for his repossessed Ferrari. It was never confirmed whether that's why he was served on his birthday, but the timing seems to make sense.
In other Tyga-related news, the "Rack City" rapper recently got a wild new haircut with stripes, apparently inspired by his stage name. Prior to that, he dropped the Kanye West-assisted banger "Feel Me," on which he spits, "I need my cash money, a mili, a mili, a mili, a mili, a mili/These bitches is litty, my niggas is litty, we lit up the city, you feel me?/My haters is humble, we hit up the city, we skrrt off we eatin a billi/Take her shoppin' but can't get that python through customs/Hundred k for the PJ, fuck it, garment bags, no luggage, feel me?"
The collaboration seemingly confirmed Tyga's affiliation with G.O.O.D. Music, as it was announced back in September that he was the newest signee to the label.
As aforementioned, you can view the video of Tyga getting served on his birthday below.
10 Critically-Acclaimed Books Rappers Live By