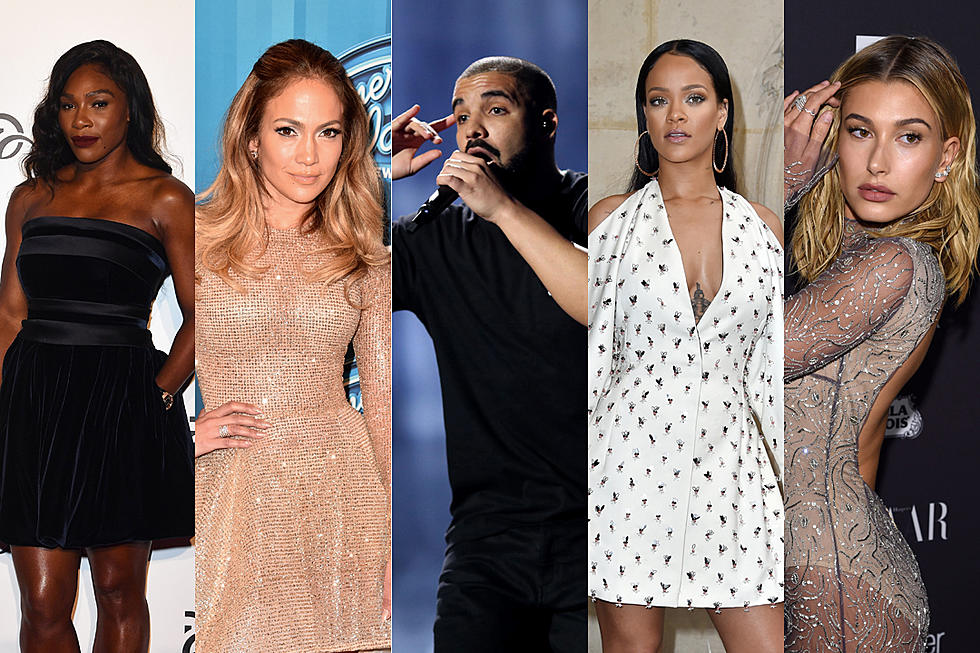 Jacopo Roule / Alberto Rodriguez / Christopher Polk / Pascal Le Segretarian / Dimitrios Kambouris, Getty Images (4)
We all know Drake is an emotional type of guy and one of hip-hop's most notorious serial daters. He's one of those dudes who dates a woman and falls hard for her. But luckily for the Toronto rapper, he's spun his often-spurned heart in his favor, venting about his relationships often in his platinum-selling songs. Drake is well known for big-upping the curvaceous loves (past and present) in his life. Over the years, he's name-dropped the Keshia's, the Bria's and Courtney's and more. But in the past few years, it seems Drake's taste in women has shifted to the big leagues of Hollywood.
A year later, when he delivered his quadruple platinum fourth studio album Views, Drake was rumored to have scooped up model Hailey Baldwin. Drizzy and the blonde beauty were spotted on date in Hollywood in the summer. After Hailey, Drake returned to the hottest women on the planet Rihanna. Rumors of the "Work" collaborators being an on-again, off-again item have been there for years. But the two got very publicly hot and heavy last summer before breaking up in October. Drake tried to plant a kiss on the bad gyal during the 2016 MTV VMAs, but RiRi curved him in epic fashion.
Drake's latest gorgeous conquest is none other than Jennifer Lopez. Drake and J.Lo sparked dating rumors in late December when the rapper was spotted repeatedly at Jenny's Las Vegas shows. The pair spent New Year's Eve together and Drizzy reportedly gifted her a pricey diamond necklace.
It's clear that as Drizzy's career has skyrocketed, Canada's rap crooner has been linked to some A-list baddies from the worlds of fashion, sports and pop music. Aside from the video vixens and Instagram models, check out which celebrity bad tings Drake has been linked to over the years in the gallery above.