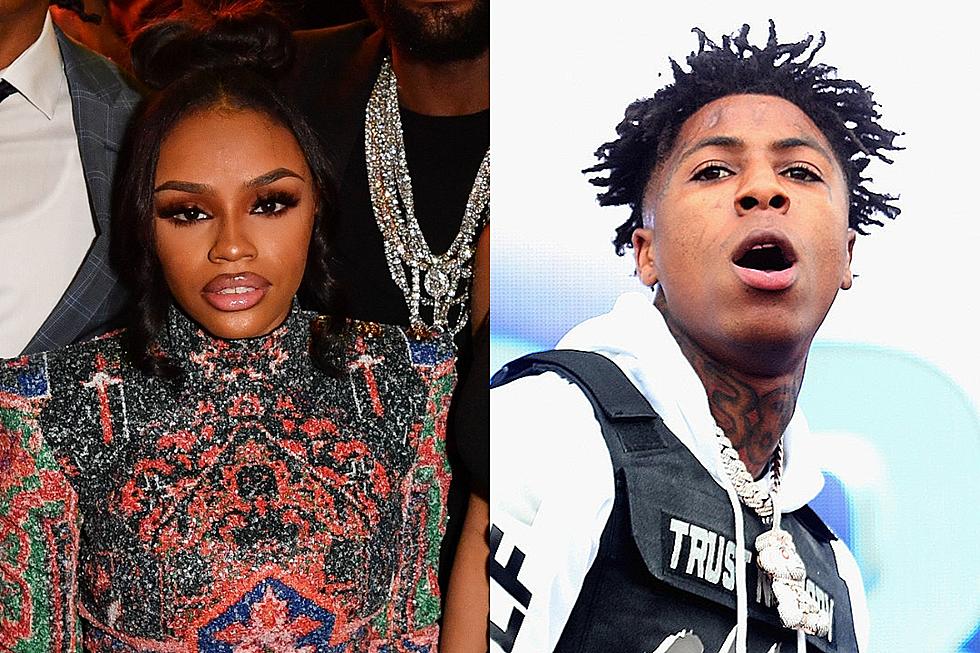 Floyd Mayweather's Daughter Iyanna Mayweather Pleads Guilty to Stabbing Alleged Mother of YoungBoy Never Broke Again's Child
Jason Koerner / Gary Miller, Getty Images (2)
Iyanna "Yaya" Mayweather, daughter of championship and undefeated boxer Floyd Mayweather, has pleaded guilty in the stabbing incident involving the alleged mother of one of YoungBoy Never Broke Again's children.
According to court documents obtained by XXL on Wednesday (April 13), Mayweather, 21, pleaded guilty in Harris County Court in Houston for Aggravated Assault With a Deadly Weapon following the April 3, 2020 incident inside YoungBoy Never Broke Again's home. Mayweather shares a son with the Baton Rouge, La. rapper, who she was dating at the time of the stabbing incident.
Iyanna Mayweather has admitted to "unlawfully, intentionally and unknowingly" causing "bodily injury to Lapattra Jacobs" by cutting her with a knife.
While the second-degree felony charge Iyanna Mayweather has pleaded guilty to carries no more that 20 years behind bars and no less than two years, prosecutors have recommended six years deferred adjunction, which is sometimes offered to first-time offenders and is an alternative of community supervision instead of jail time. It has also been suggested that Mayweather complete 40 hours of community service and she is forbidden from harassing, threatening or abusively contacting the victim, Lapattra Jacobs, who received a protective order against Mayweather in December of 2020.
Iyanna Mayweather has also waived her right to appeal her case.
Her attorney, Kent Schaffer, offered XXL a statement on the case. "We resolved the case between Iyanna and the State," Shaffer said. "The agreement calls for Iyanna being on deferred adjudication for a period of 6 years after which she will have no felony conviction and the case will be dismissed. She is eligible to have the deferred adjudication end after two years pending her good behavior. Although we believe that Iyanna was defending herself after being attacked, we thought this was the safest resolution for her. This is especially true since her boyfriend and his bodyguards refused to testify; probably due to their own legal problems."
As previously reported, NBA YoungBoy and Jacobs were at the Houston home together when Mayweather arrived at the property and was upset over Jacobs being at the residence. The two women got into a verbal dispute, which escalated into a physical altercation where Mayweather allegedly retrieved two knives from the kitchen and stabbed Jacobs twice.
Jacobs was transported to a nearby hospital, but was able to recount what transpired.
YoungBoy Never Broke Again was detained by authorities, but later let go after being questioned.
Mayweather informed police that the altercation stemmed from Jacobs pulling her hair outside the home, prior to the stabbing taking place.
XXL has reached out to Harris County D.A. office in Texas and Yaya Mayweather's attorney.
See 44 of the Longest Prison Bids in Hip-Hop History
C-Murder, Max B, B.G. and more.