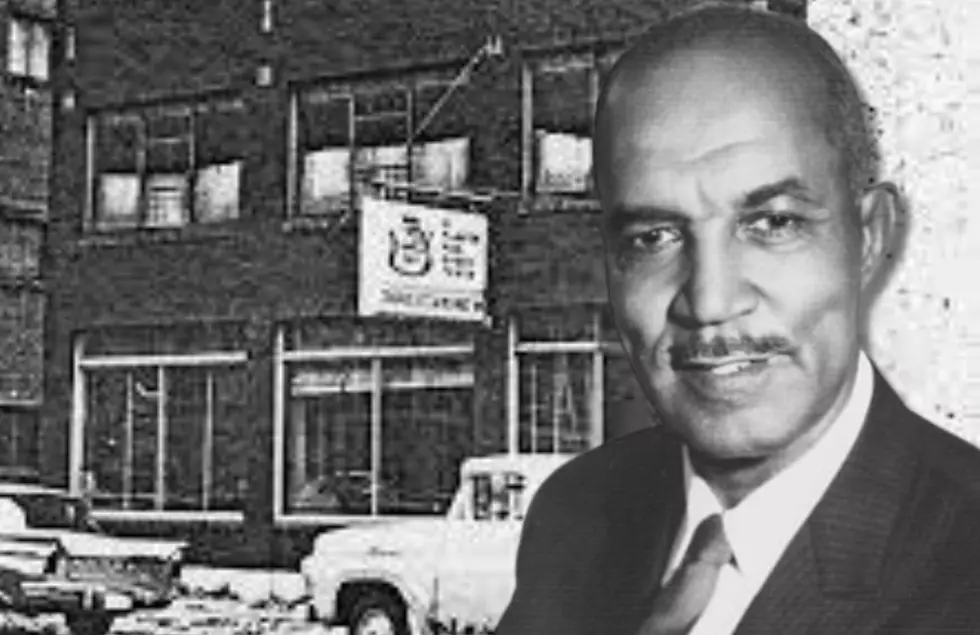 Attorney Floyd Skinner was the owner of Club Indigo, Grand Rapids' first Black nightclub
Canva
All month long, the Grand Rapids Historical Society and I will be sharing Black History facts that have taken place right here in Grand Rapids.
If you missed the last one, you can learn about Ethel B. Coe, activist, singer, actress, humanitarian, and the first Black woman to run for public office in Grand Rapids.
Today's Black History fact is about Floyd Skinner, an attorney, social justice activist, and the owner of Club Indigo, Grand Rapids' first Black nightclub.
Floyd Skinner was born in 1902 in Benzie County, Michigan. In 1914, Floyd moved to Grand Rapids where he attended school, worked as a railroad worker, and played on the semi-pro baseball team, the Grand Rapids Colored Athletics. 
He graduated from the University of Michigan in 1926. In his final year of law school at U of M, Floyd assisted a Black attorney here in Grand Rapids, Oliver Green. As a researcher when Green first filed suit against the Keith Theatre in the monumental case, Bolden. V. Grand Rapids Operating Operation, for refusing to seat Dr. Emmett Bolden, a Black dentist.
On June 6, 1927, the Michigan Supreme Court ruled in favor of Bolden – requiring the Keith Theater and other local theaters to provide integrated seating. This groundbreaking case broke ceilings in civil rights here in Grand Rapids and beyond, further igniting Floyd's fight for equality.
Floyd was a lifelong active member of the Grand Rapids NAACP. Between 1927 and 1962, he served five separate terms as president and served on committees on the local and state levels. Along with one of Grand Rapids' first black business owners, mortician Milo Brown, founder of Brown's Funeral Home, they founded the Progressive Voters League in the 1930s. In its first year, the league helped get more than 75% of Grand Rapids' eligible black voters to the polls.
Skinner was incredibly diligent in his efforts to resist Jim Crow and segregation through his leadership with the Grand Rapids NAACP. Relentless, Floyd led them in their fight for equality in the city. During his tenure as president, the organization fought for fair employment and confronted Grand Rapids Public Schools to recruit Black teachers.
A true diplomat here, The Grand Rapids Press once stated Skinner was
"the man who could talk to the man."
Floyd was also an influential force in Grand Rapids' social scene. Along with John Shakelford, and Milo Brown, the three entrepreneurs banded together to secure Roma Hall located on the corner of Franklin and Division as the location for Club Indigo, the first Black nightclub in Grand Rapids.
Floyd was married to Hazel Skinner, a reporter, and stenographer, and the first Black woman to work in the Grand Rapids City Clerk's office. In 1936, Hazel wrote a column describing social events by the Grand Rapids' Black community in the Chicago Defender newspaper.
Her article announced the opening of "The Club Indigo, Inc. …organized for the social, athletic, and civic advancement of our group. It is intended that a first-class night club (will) be opened in the near future where meals, beer, mixed drinks, and dancing may be enjoyed by its members and their guests in a refined atmosphere as provided by law…the club, located at 746 South Division Avenue, will be open for business in the very near future." Club Indigo hosted dances and "floor shows", inspired by the Black entertainment scene that was thriving in Idlewild and on the chitlin circuit.
Today, Grand Rapids Community College's Giant Awards recognizes his powerful legacy with the Floyd Skinner Justice Award. The Floyd Skinner Bar Association, a local organization and support system for Black lawyers is named in his honor. We extend our gratitude to our ancestor Floyd Skinner for his lifelong dedication to the civic and social change for Black people here in our city on so many levels.
LOOK: 50 essential civil rights speeches
Many of the speakers had a lifetime commitment to human rights, but one tried to silence an activist lobbying for voting rights, before later signing off on major civil rights legislation. Several fought for freedom for more than one oppressed group.
Keep reading to discover 50 essential civil rights speeches.