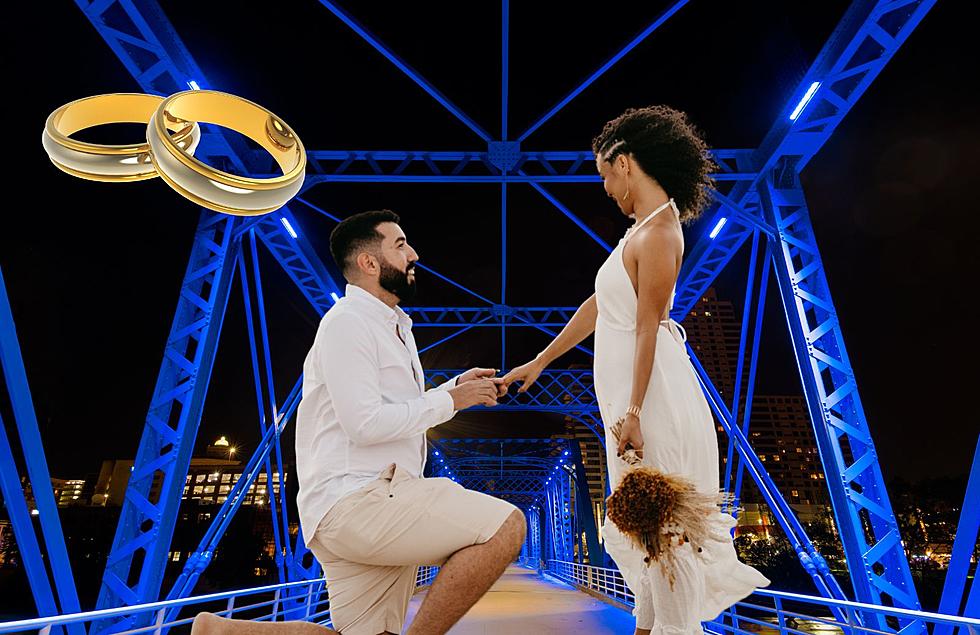 Say Yes At These 7 Beautiful Locations in Grand Rapids For Your Proposal
Canva
It is that time of year again!
Wedding season!
In order to get to the big day, you have to pop the question. But it may be nerve-racking to figure out the best places to pop the question.
Scroll below to get the top places to say YES in Grand Rapids!
7 Places To Say YES in Grand Rapids!
1. The Blue Bridge
The iconic Blue Bridge would be a beautiful background to profess your love to your significant other.
Even the Top 10 Best Places agree,
This pedestrian bridge is a popular engagement spot in downtown Grand Rapids and is ideal for a romantic stroll while admiring the city skyline. Take your significant other on a stroll across the bridge and pop the question while taking in the panoramic river and cityscape views from the bridge's center.
2. Love Sculpture
It may be a little on the nose, but it would be a wonderful setting for you to pop the question.
It may make things a little easier to get out with the words LOVE written out for you.
3. West Michigan Whitecaps Game
You can pop the question at one of the West Michigan Whitecaps Games this summer.
Plus, you may even end up on the Kiss Cam at LMCU Ballpark.
4. Lookout Park
If a good view is a must for you when you are ready to propose, you may want to set up the proposal at Lookout Park
Experience GR says,
Snuggle up on a bench overlooking the city as the sun begins to descend over the horizon...it's a magical place and time to pop the question.
5. Roselle Park
Roselle Park is a hidden gem that many probably wouldn't think about at first.
Top 10 Best Places says,
Roselle Park is a 247-acre nature preserve in Ada Township, just minutes from Grand Rapids. The park's beautiful paved trails, lush vegetation, observation deck, and breathtaking Grand River views provide a picturesque and serene setting for a marriage proposal. Propose to your significant other while walking along the trails or taking in the stunning views from the observation deck.
If your loved one is a nature lover, Roselle Park should be on the list as a potential proposal location.
6. Frederick Meijer Gardens & Sculpture Park
Why would Meijer Gardens not be on the list?
With all of the breathtaking sculptures and land spaces to admire, you can have a beautiful location to pop the question and make a grand gesture.
7. GRNoir Wine & Jazz
GRNoir is one of my favorite places in all of Downtown Grand Rapids.
With the perfect ambiance and music in the background, why would you not want to pop the question there?
Plus, you can celebrate with good food and good wine afterward.
The 8 Perfect Picnic Locations In Grand Rapids
Picnics are made for the summertime. Here are the eight locations where you can have the perfect picnic in Grand Rapids.