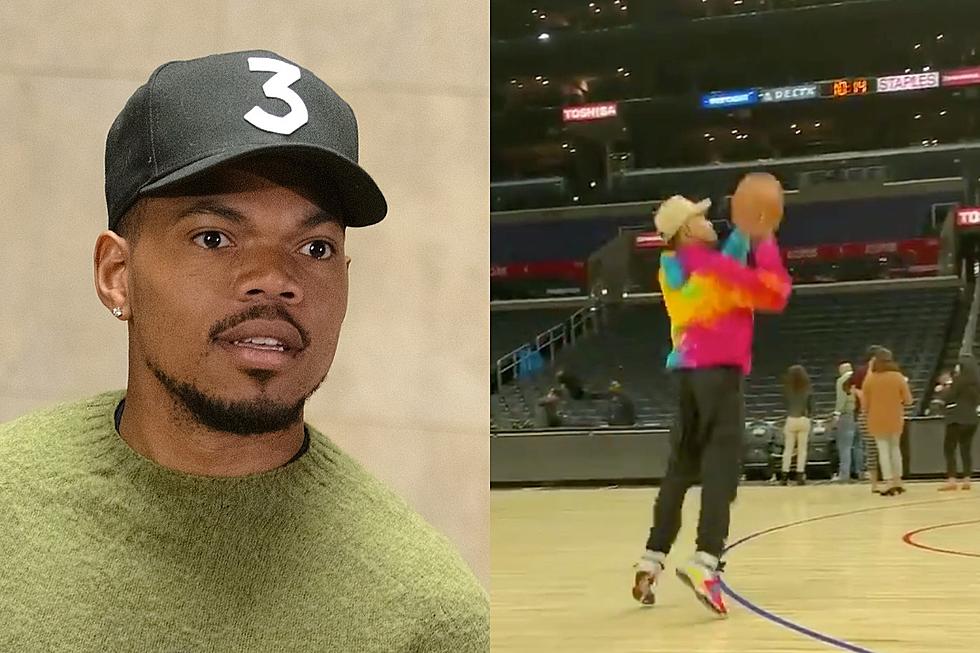 Chance The Rapper Trolled by Fans After Missing 11 Straight Shots
Daniel Boczarski, Getty Images / Twitter via @SLAMonline
While visiting the Los Angeles Staples Center to watch the Milwaukee Bucks play the Los Angeles Clippers on Wednesday, (Nov 6.), Chano shot and missed 11 straight shots.
TMZ captured the funny moment in a video. In the clip, you can see the rapper struggle to make jumpers from multiple angles on the court.
While some fans showed their support, others took the time to playfully roast the rapper, tearing his jumper to smithereens in the process.
One fan was downright offended by Chano's shooting form. "If you shoot a basketball like Chance the Rapper, stay away from me b," the fan wrote in a tweet.
Another Twitter-using-fan uploaded a video of a man who's aggressively shooting free throws and missing every shot with confidence and compared the man the Chance. While plenty of fans took the time to roast Chance, another fan called out the celebrity news out for talking down on his hoop skills.
While Chano's b-ball skills don't look too impressive, he seems to be having a good time with it all. "I know my follow thru was huff but that catch and shoot was wet ‍♂️ plus im out here gettin that business advice from Rich Paul ," Chance wrote in a tweet that included an image of himself and LeBron James' manager Rich Paul.
Even if Chance isn't the best ballplayer at the moment, it's all good because he's got plenty of other talents. One of them is comedy. During an interview with Jimmy Kimmel Live, Chance said he could see himself one day becoming a world-famous comedian.
"I used to spend a little time at this little improv spot called Thunderdome in Chicago," recalled Chance, who recently postponed his The Big Day Tour so he could spend more time with his family. "I like the comedy scene, I like to hang out, and so I went to the club, got wasted and I wouldn't say that my girl encouraged me to go on stage but I would say she let me, she gave up because I was really bent on getting on stage that night and I just felt that it was my time."
Check out some tweets about Chance The Rapper's jumper below.
See Photos of Every XXL Freshman Ever Inducted Into the Freshman Class Over the Years