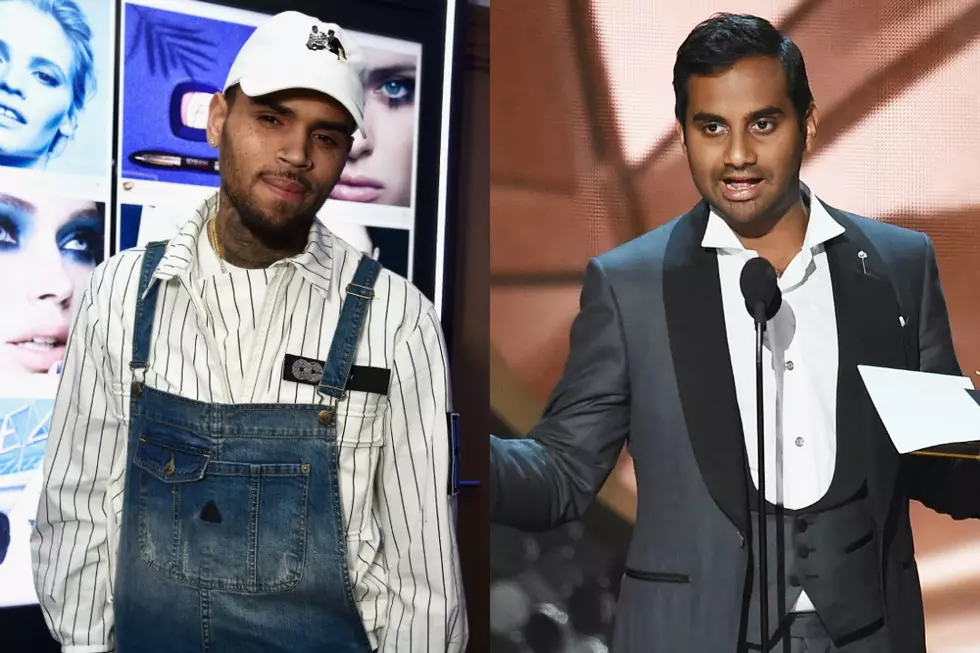 Chris Brown Fires Back at Comedian Aziz Ansari for Comparing Him to Donald Trump in 'SNL' Monologue
Pascal Le Segretain / Kevin Winter, Getty Images
Comedian Aziz Ansari hosted Saturday Night Live this past weekend (Jan. 21), addressing Donald Trump's Presidential Inauguration and the women's protest march the following day during his opening monologue. Of Trump voters, Ansari said not to paint them too broadly, as they could be like Chris Brown listeners who might enjoy the singer's music despite disagreeing with some of his personal statements or actions.
"I don't know about that other stuff, I just like the dancing and the music, I don't condone the extracurriculars," Ansari says, imitating such a fan. He goes on to expound on the comparison "If you think about it, Donald Trump is basically the Chris Brown of politics," he says, "and 'Make America Great Again' is his 'These Hoes Ain't Loyal.'"
Breezy has since responded to the bit with what seems like a mixture of humor and frustration. Above, he writes, "FUCK NO!!!!!! Somebody tell ALADDIN HOP OFF MY DICK," but adds a tear-eyed emoji at the end. Below meanwhile, he says in a video that he can't catch a break and sports a smile as he recounts Ansari's joke. " I swear, I'm moving," Brown says.
7 Rappers Who've Challenged Other Rappers to Fight