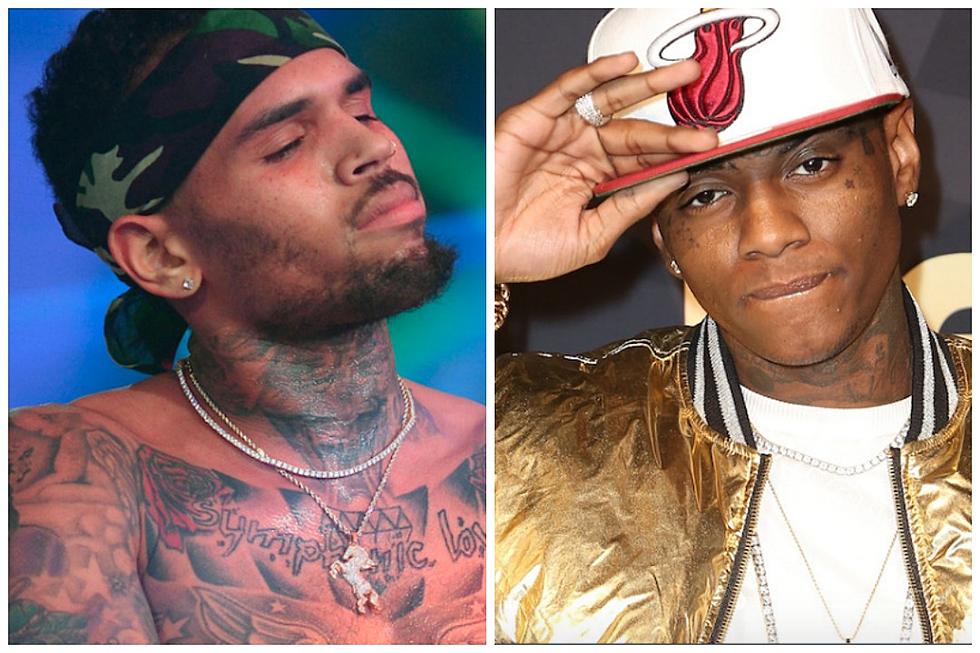 Chris Brown Challenges Soulja Boy to a Boxing Match: 'Imma Whup Your Ass'
Bryan Steffy/Maury Phillips, Getty Images
Soulja Boy called Chris out on Twitter late last night (Jan. 2) for contacting him, upset, after Soulja "liked" an Instagram post by Chris' ex, Karrueche Tran. Well, Chris is now awake, and so of course, that means he's responded—by challenging Soulja Boy to a duel!
Well, sorta kinda. He really just wants to set up a boxing match.
Breezy's challenge comes after Soulja Boy first issued a threat, saying that Chris only liked to beat up women, that he's "not Rihanna," and that Chris is a "b----" for still being all in his feelings over Karrueche. Chris, predictably, immediately responded to the late night social media threat, just as soon as he was awake.
"I just f---ing woke up, this n---- text me. N---- continuously called me on FaceTime. He prolly wanna squash it cause he know I'm serious. Boy, stop it. I'ma whoop your ass. Adrien Broner, set up the gym, bro. Set the gym up. Stop calling me n----," Breezy says in his Instagram video.
"We gon' fight for charity," he later clarifies to his "white fans" and the "parents" who may be looking down on him. "We going to make sure all these proceeds go to charity."
Okay then. Capping off the drama, Brown also put Soulja Boy's number on blast for his 34.1 million Instagram followers to see, and posted a text message between the two. Soulja followed that up with some text messages of his own and put out what is assumed to be CB's private number. Good grief.
Anyway, feel free to check out the dramatic back and forth below. If this boxing match actually happens, though, it could be pretty entertaining.
What's Beef? 10 Hip-Hop Twitter Feuds