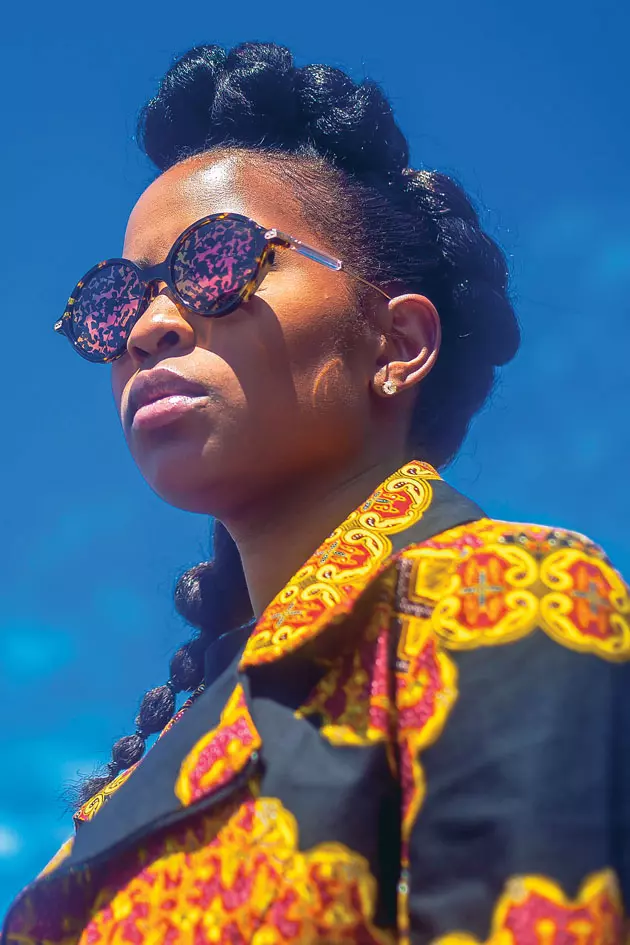 DeJ Loaf Aims to Make Timeless Music on 'Liberated' Album
Martez Brooks
Show Out
She's been the topic of plenty of hot gossip, but now it's DeJ Loaf's time to shine musically.
Words: Bianca Torres
Editor's Note: This story originally appeared in the Winter 2016 issue of of XXL Magazine, on stands now.
Life has changed dramatically for DeJ Loaf over the past two years. The Detroit native had a whirlwind of fame when she first came on the scene with her hit song "Try Me" in 2014. That record helped put her on a track to stardom, peaking at No. 45 on the Billboard Hot 100.
Since then, DeJ, born Deja Trimble signed with Columbia Records, was named an XXL 2015 Freshman, dropped her All Jokes Aside mixtape and a well-received EP ...And See That's the Thing, which spawned hit records "Back Up" with Big Sean and "Hey There" with Future. Collabos including "Me U & Hennessy (Remix)" featuring Lil Wayne, Kid Ink's "Be Real" and Lil Durk's "My Beyoncé" have also helped the femcee get ready for her big moment, the release of her long-awaited solo debut, Liberated, which is scheduled to drop in early 2017. Besides the music, DeJ, 25, earned attention for her fresh fashion sense and even scored a cosmetic campaign with MAC Cosmetics.
Here, XXL chops it up with DeJ about life since becoming a Freshman, her personal and professional growth and why she waited two years to release her first album.
XXL: It seems like you have changed a lot since the release of your first big single, 2014's "Try Me." Do you agree?
I've grown. I was fortunate enough to be a person... I grow every day. I'm learning something different. Us, as women, we have to mature, we have to grow. I'm not a little girl anymore; I've grown into a young woman. How I move, how I carry myself, how I talk is important to me and my message that I tell the kids. I'm careful with my words now, that's another thing, why I wanted to slow down on hip-hop. Because they're listening and they're watching. We have a world full of kids growing up who want to hear the shoot-'em-up, bang, bang [music]. It's like, it's cool, but there's another world who wants to hear, "Chase your dreams" and they want to get motivated. Some of the kids get bullied, I want to talk to them too. I don't want to be like, "Go kill everybody over there."
I'm really from that kind of environment, so I can do "Try Me." I can do the songs that you heard. I have that balance 'cause I've always been on my toes as far as the people around me. Everybody else grew up crazy, I'm not perfect, but they really are about that life.
Why did you wait two years to put out your debut album?
My process has always been different with releasing music. I've been doing [music] since a kid and I was shy, I wasn't really confident. People knew I did music but they never heard it. I could've been a kid rapper if I wouldn't have been that shy and took it seriously.
My process has always been just to take my time and perfect it. I never cared about just putting out music like everybody else and I still don't. I believe if it's meant to happen it's gonna happen. I don't feel like my time is running out. I know how this industry goes, I'm learning it. I get frustrated sometimes because I get anxious like, I want to put out music! At the same time I'm patient. If my album isn't meant to happen it's going to be what it's going to be. I'm a believer in what I do. That's how I look at it. It's gonna work, it's fine.
And, I put out projects in between in those two years. I don't think people understood that, like, I didn't drop an album. It feels good because it's gonna be exactly how I wanted it to be.
Have you worked with a lot of other female rappers in the industry?
Worked? I've met [some], but I haven't worked with many.
I don't know. I don't mind, I would like to work with some of them.
Well, I met [Lil'] Kim, she's a sweetheart. We was hangin' out, she always shows love. We was in the studio, we didn't cut a record. Like, I got a record for her. I'm waiting for it to come full circle. I can always call her, she's dope. I would love to work with Missy [Elliott], I like Nicki [Minaj]. I worked with Dreezy, I did a feature for her last year. I be out here, let's work.
How much versatility do you show on the album?
They're gonna be like, "Oh." I hope they're not shocked, I don't know what's gonna happen. It's not that much different. It's different, but not too far off. They're gonna understand she's here to stay. I wanna play with the big dogs. I wanna make big music. I'm making music that I want to last forever, not just a quick hit. I don't chase hits, I just do music and it comes out how it does.
Do you have any favorite tracks on the new album? You have a song on the album called "Liberated," that's probably one of them.
Yeah, that's one of my favorites because from the first time I heard Leon [Bridges] I was like, "Yo, who is this guy? I have to meet him." I was on it immediately and it happened because I put it together. And we're still picking and choosing [songs] 'cause there's so many different styles.
What's the best advice anyone has ever given you?
I went through a lot in the past year and I was talking to someone and they were telling me, "Take care of yourself, first." I think that's the best advice anyone's ever given me. "Take care of yourself," that's very important, especially in this industry and in life. You forget how often you give, not only material things and money, but give so much of yourself. Sometimes you gotta be like, "Yo, take care of me, love me." Taking care of yourself is not just about buying yourself things, it's mentally, all of that. I think that's it for me, because I wasn't taking care of myself, I was kinda lost.
Trying to please other people?
All of that. Now I'm like, "No." I can just say it now with ease and I don't feel bad. It feels good.
So, would you say that is a part of your evolution too? That you're less of a people-pleaser and are taking care of yourself more?
Definitely. I'm owning [it], I'm like, Yo, I'm the bad guy. You gotta be the bad guy, I've accepted it. I've accepted that things aren't going to be the same as they were before; I've accepted that part. I know what I want.
Any rumors you want to clear up?
I'm single. I'm not sure if that's a rumor or not.
So no more relationship. Is that a little of what's going on in your album? Because you talk about love.
Yeah, I just speak from experience and different things. I try to relate to people.
Is it safe to say that you and your ex-boo Lil Durk are still friends?
Yeah, he just hit me up. That's my guy
See Exclusive Photos From Travis Scott's XXL Winter 2016 Cover Shoot