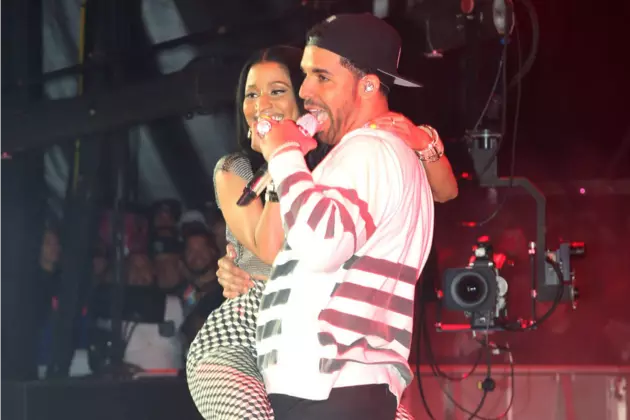 Drake Brings Out Nicki Minaj to Perform "No Frauds" in Paris
Johnny Nunez, Getty Images
It appears Drake and Nicki Minaj are as united as ever. Just a few days after appearing on Nicki's "No Frauds," Drizzy brought The Pinkprint artist on to the stage to perform during the Paris stop of his Boy Meets World tour. You can see a clip from her performance below.
Over the course of several minutes, Nicki ran through "No Frauds" and her chart-topping singles "Moment 4 Life," "Only" and "Truffle Butter." Needless to say, the crowd was definitely into the 2017 Young Money reunion. Apparently, Nicki was too, as she was so caught up in the good vibes that she made time to give the Paris crowd a touching motivational speech.
"You know I love you, right?" Nicki said toward the end of her impromptu set. "And for supporting my brother Drizzy Drake, I love you even more. He means the world to me, and I want you guys to know that."
She continued, "But before I leave, I'm going to do one more. I just want to beg you guys to chase your dreams. Don't let anyone or anything get in your muthafuckin' way. You are important. And if a nigga don't know how to treat you, he got to get the fuck out your muthafuckin' life."
In other Nicki-related news, the Pink Friday: Roman Reloaded artist upped the ante for her exploding beef with Remy Ma by not only dropping a diss song—the aforementioned "No Frauds"—but also issuing a challenge. Using her Instagram to take more shots at Remy, Nicki essentially bet $500,000 that the "All the Way Up" rapper couldn't drop a hit in 72 hours and secure a show or appearance in mainstream media without mentioning Nicki. That was about 72 hours ago, and it doesn't look like Remy will be playing Nicki's game.
See Photos of Drake Over the Years