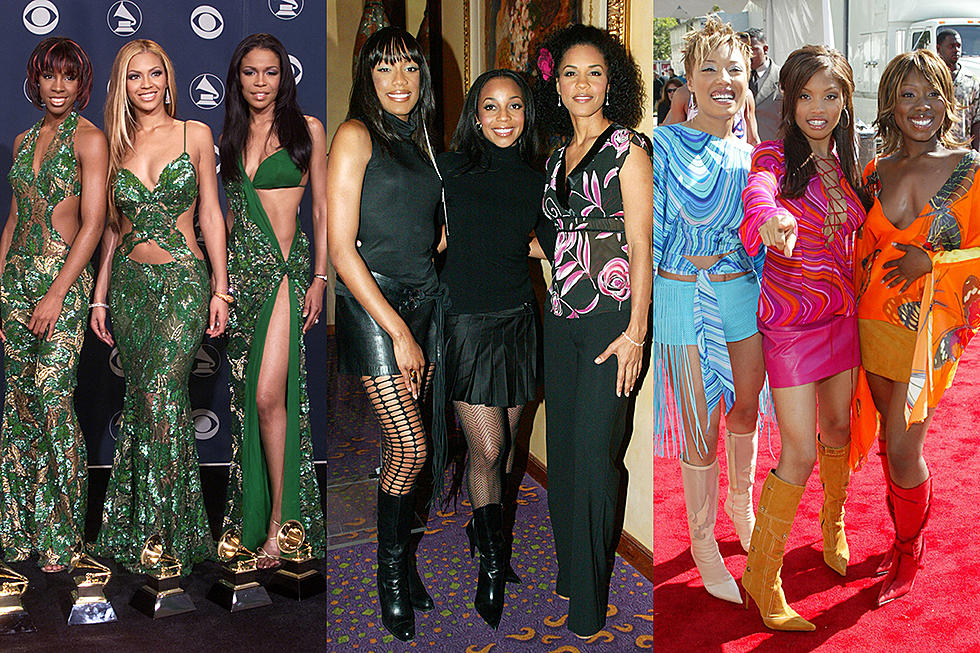 10 Best Female Empowerment Songs by R&B Girl Groups
Scott Gries / Frederick M. Brown (2), Getty Images
Although we could always appreciate the strength of R&B's female voices like Whitney Houston, Deborah Cox and, more recently, Beyoncé, there's just something moving about hearing the harmonies from girl groups.
But for some reason, many of the songs these girl groups would sing centered around falling into or out of love. Whether it's SWV talking about dizzying love on "Weak" or Xscape reassuring loved ones that they have their backs on"The Arms of the One Who Loves You," these groups' song collections were mainly about matters of the heart.
But while we can't knock a good love song, sometimes you just want a track that makes you feel like you can take on the world.
As the fight for gender equality strengthens, tracks aiming to empower women are more important than ever. So, we took a look at our favorite girl group's music and put together a list of songs that highlighted the strength, resilience and power of women.
Take a look at the 10 R&B songs by girl groups that will empower every woman below.
1

"Independent Woman Pt. 1"

Destiny's Child

We couldn't have this list without the inclusion of "Independent Women Pt. 1" by Destiny's Child. It's just oozing with female empowerment. Aside from being a great beat to bounce to and a notable addition to the 2000 Charlie's Angels reboot, the lyrics remind women why they hustle as hard as they do every day. And if you need a little reminder, just read below.

"The shoes on my feet / I've bought it / The clothes I'm wearing / I've bought it / The rock I'm rocking / I bought it / Cause I depend on me / (If I want it) / The watch I'm wearing
I bought it / The house I live in / I've bought it / The car I'm driving / I've bought it
I depend on me"

2

While we love a good red carpet recap, sometimes it makes us think, "Why can't I look just as a good as (fill in the blank)?" And with the power of the internet and social media, the mission to look visually perfect has skyrocketed. TLC's T-Boz noticed women's tendency to compare themselves to other women way back in 1999, and wrote a poem about it. With the help of Dallas Austin, the poetry turned into the the 1999 hit, "Unpretty." The song encourages us to look into ourselves and see the beauty that's inside.

3

KING's 2016 track, "The Greatest," may sound like an easygoing R&B tune. But within that free-flowing slow burn the group articulates that it really isn't about the sprint; we just need to focus onto the marathon to achieve greatness.

4

Feminism has taken on a variety of movements throughout the years. And in 1994, Blackgirl released "90's Girl." Although it wasn't the biggest chart-topper (only peaking at #71 on the Billboard Hot 100 chart), the Atlanta trio had a strong message about what it meant to be a female over 20 years ago.

"Back in the day / When my mama was raising me / I never could understand the statement / Stand behind your man / I'd rather be by his side / Sharing the load / So he can see things from my point of view / And read my thoughts."

5

"Free Your Mind"

En Vogue

Just because a woman wants to look sexy doesn't mean she's asking for it. And before Amber Rose joined the "Slutwalk movement, En Vogue touched on the subject along with a laundry list of other issues that people still face today in their 1992 track, "Free Your Mind." Named one of The Greatest Girl Group Songs of All Time by Billboard, the mix of rock and R&B gave the track more reach. And honestly, it's just a great song that can give you a jolt of energy in the middle of a rough day.

6

Female empowerment is also about knowing what you will and will not tolerate from your partner, and having the strength to recognize that and tell it like it is. TLC's 1999 song, "No Scrubs," fully tackled this concept with bold, forthright lyrics that became an anthem of sorts for women everywhere.

7

"Survivor"

Destiny's Child

Whether it's the orchestra in the beginning of the song or the theatrical video, Destiny's Child's "Survivor" can lift everyone's spirits up. Released in 2001, the track made a huge impact on the Billboard charts and became the soundtrack for many movements around the world—not just issues that focused on women. This one needs to be on everyone's inspirational playlist.

8

In 1999, 702 made a name for themselves with their single, "Where My Girls At?". Although the song could be seen as pinning female against female in the verses, all you need to hear is the chorus to get your ladies together and feel like a strong force.

9

"If You Love Me"

Brownstone

Just as TLC did with "No Scrubs," Brownstone showed their strength and power with the 1994 song, "If You Love Me." Although girls have been taught to let the boys take the lead, this one tells you not to afraid to tell your man what you want from him and to express your expectations in the relationship boldly.

10

"Power of the Female"

Cherish

In 2003, Cherish came together to release "Power of the Female," which was used to advertise The Powerpuff Girls Movie. Yes, the song is a fun and bouncy one. But the lyrics pack a punch and will teach young girls that they can do anything a boy can do.