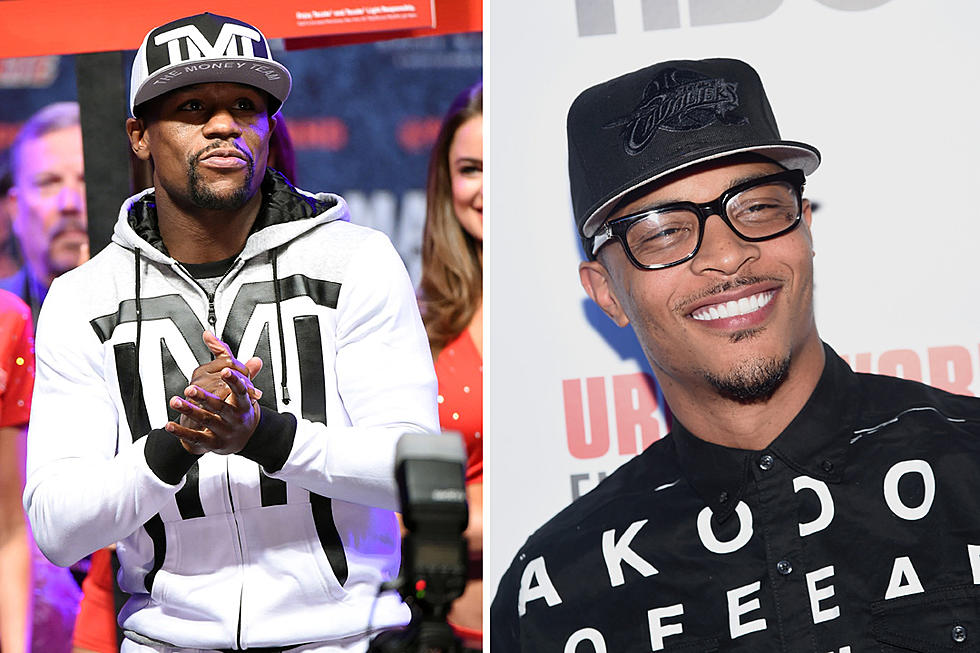 Floyd Mayweather's DJ Claims He Was Jumped by T.I. and Rapper's Crew
Jamie McCarthy / Ethan Miller, Getty Images (2)
Boxer Floyd Mayweather's DJ, Jay Bling, is making some bold claims against T.I. According to the record spinner, he was assaulted by the Atlanta rapper and his crew.
It appears the alleged incident happened in Los Angeles where many industry folks are gathered for the 2019 BET Awards, which occurs Sunday night (June 23). Jay put the word out this morning on his Instagram Story. "TI JUMPED ME LOL!! All y'all niggas hit like straight bitches," he wrote in the first post.
He added, "6 Niggas and all y'all did was scratch me up! Niggas jumped the wrong one tonight! I'm on yo bumper bitch ass nigga @troubleman31."
It is unclear what sparked this particular situation, but Tip and Floyd have had issues in the past. They got into an altercation in Las Vegas in 2014 that was rumored to be over the rapper's wife Tiny. Most recently, T.I. released a diss song aimed at the retired boxer over his continued support of the Gucci brand after T.I. had put a boycott on the clothing line due to a sweater they released that resembled blackface. He later denied the song had anything to do with what may or may not have happened between Floyd and his wife previously.
T.I. has yet to respond publicly to the claims that his crew put paws on Floyd's disk jockey. XXL has reached out to Tip's camp for comment.
Check out Jay Bling's claims for yourself below.
See 55 Hip-Hop Albums Turning 10 in 2019