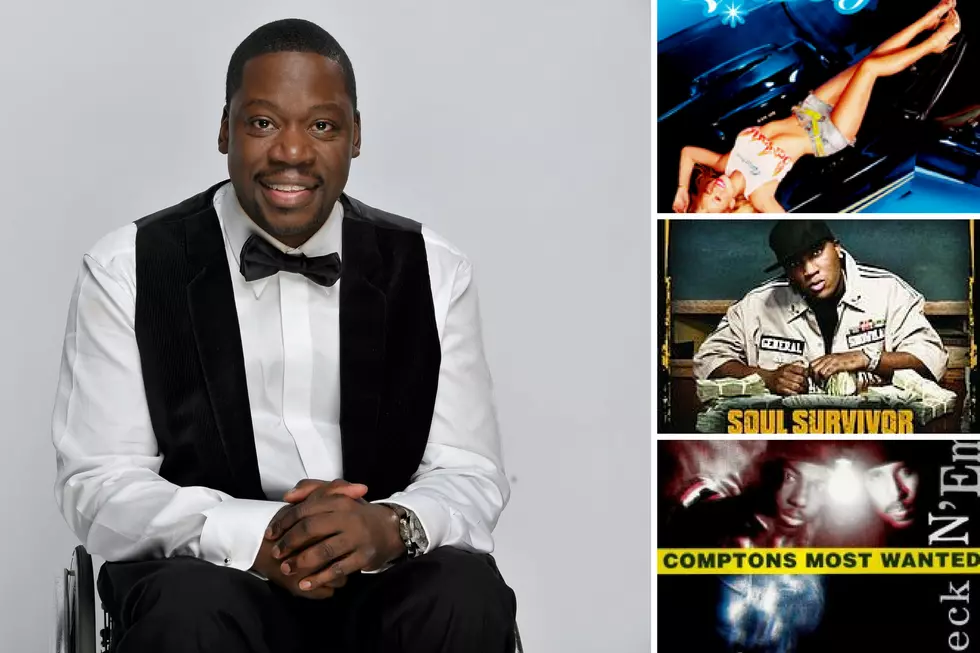 July 16 Hip-Hop History: Chill Mitchell is Born, Mariah Carey, Young Jeezy + More
Charley Gallay/Getty Images, iTunes
July 16, 1965: Daryl "Chill" Mitchell is born.
On July 16, 1965, Daryl Mitchell was born in Bronx, New York. Known primarily as "Chill" from his time with Hip-Hop group Groove B. Chill, he gained further popularity in the '90s for his roles in House Party and House Party 2. Despite suffering a spinal injury in 2001 that left him paralyzed from the waist down, he continues to have a successful acting career and now have a recurring role on NCIS: New Orleans.
July 16, 1991: Compton's Most Wanted releases Straight Checkn 'Em
The Compton Hip-Hop ensemble formed by MC Eiht and Tha Chill released the follow-up to 1990's It's A Compton Thing, peaking at number 92 at the Billboard 200 and 23 on the R&B/Hip-Hop Charts. The album featured the singles "Growin' Up in the Hood," which also was featured on the Boyz In The Hood Soundtrack, "Driveby Miss Daisy," and "Def Wish." The latter track was indirectly responsible for MC Eiht's 6-year-on feud with fellow Compton rapper DJ Quik.
"Honestly to me, this Quik s--- got started with people's misunderstandings of s---," Eiht said in an interview with Vlad TV. "I never knew who Quik was...I don't know how it got back to him. I had a song called 'Def Wish'...it had a verse that said, 'biting me quick, would mean you get my duck sicked quick. People took that to say I was dissing Quik. I never knew him. It was just a phrase to me."
July 16, 1999: The Wood releases in Theaters
Written by Rick Famuyiwa, the coming-of-age dramedy The Wood was released on this day in 1999. The film starred Omar Epps, Taye Diggs, and Richard T. Jones as three childhood friends growing up in Inglewood, Calif. in the midst of gang violence and interpersonal relationships. The themes of being an outsider in a harsh environment are no stranger to Famuyiwa, an Inglewood resident himself.
"Growing up in Inglewood was pivotal to me in shaping who I am," Famuyiwa spoke with Paste. "For better or worse, the environment defines you."
July 16, 2001: Mariah Carey releases "Loverboy."
At the height of her chart-topping success following Butterfly and Rainbow, Mariah Carey embarked on her film and soundtrack production Glitter. The opening single "Loverboy" heavily focused on a retro influence by sampling Cameo's "Candy," and featured the group on vocals. It peaked No. 2 on the Billboard Hot 100, becoming the first lead single from Mariah to not reach No. 1. The Glitter soundtrack would fare worse, becoming a commercial and critical failure and forcing Virgin Records to buy out her 5-album, $100 million contract before the ink dried.
July 16, 2002: Buju Banton releases Want It
In 2002, dancehall and reggae artist Buju Banton released the compilation album Want It. The compilation record features a number of popular singles such as the apropos "Want It," "If Lovin You Was A Crime," and "Ring The Alarm" and is one in a litany of Best Of albums from the reggae star.
July 16, 2005: Jeezy drops "Soul Survivor" with Akon
As Atlanta proceeded to take over in rap's mainstream, Young Jeezy made himself one of the flag bearers with "Soul Survivor." The second single off of his critically-acclaimed solo debut Let's Get It: Thug Motivation 101, the song featured Akon and cemented Jeezy as one of the hottest new stars in hip-hop. In one of the more interesting stories surrounding the song, the video shoot led to a chance meeting between Jeezy and another Southern wordsmith on the verge of stardom, Lil Wayne.
As Cam'ron would like to point out, his close relationship with Lil Wayne led to the pairing with Young Jeezy. "This is probably the last person you would ever think, but like, I'm the one who introduced Lil Wayne to Young Jeezy," Cam explained in an interview with Noisey. "When I went to do Young Jeezy's video shoot for him, Lil Wayne was at my crib, and we rode out there. He never met Jeezy before, and I introduced them to each other. So that's like my man."