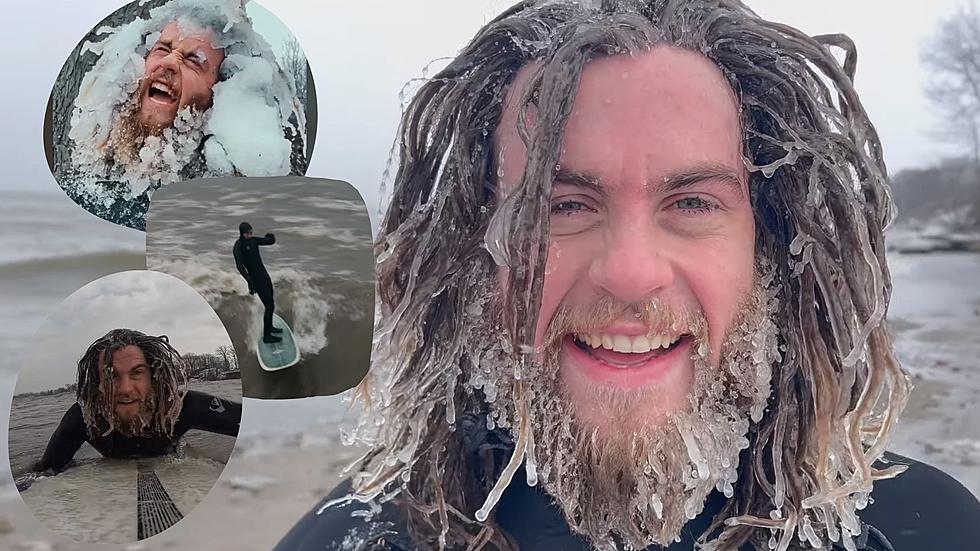 Epic Ice Beards: These Ohio Brothers Surf Lake Erie In The Winter
Youtube/TikTok @TheSkeltonBrothers
Meet Sam and Caleb Skelton. They're surfers, and they live in Cleveland, Ohio... 500 miles from the closest ocean. But they usually don't surf the ocean, nor do they exclusively surf in the summer.
The Skelton's Surf Lake Erie... and they do it in the winter when it's well below freezing.
Sam and Caleb have gone viral a couple of times around the Great Lakes area with their unique habits. They both love the wilderness, and are advocates for wilderness, nature, and healthy lifestyles while living on the Great Lakes.
But obviously, they're most well known for their winter surfing (and their ice beards... especially Caleb's), on Lake Erie, right by their home city of Cleveland.
"We have some of the gnarliest weather here. People just hide in their houses during it." - Sam

"The lake whips you around constantly. You have no control over it. And then all of a sudden you tame it for one second. That's just a great feeling." - Caleb
What makes their ventures out onto the lake even crazier is... the colder, the better. They often go surfing with temperatures outside well below freezing, and they'll stay out in the water for hours at a time.
How do they not freeze to death? Well, Caleb and Sam practice cold therapy and cold plunging. The idea is, you plunge yourself in freezing cold water that triggers a sudden, rapid increase in breathing, heart rate, and blood pressure, called a cold shock response.
Cold Plunging has been connected with relieving pain, aiding in exercise recovery, and even boosting your mood. This explains why the Skeltons always seem to be in a good mood. And over time, they've adapted their bodies to tolerate the sub-freezing temperatures for longer periods of time, which allows them to stay out in the water for hours at a time.
Just to be safe, though, they do wear wetsuits to keep their bodies at an acceptable temperature while in the water.
But now their winter surfing, and especially those ice beards, have become so famous around Lake Erie, they've even inspired a beer at Great Lakes Brewing in Mentor, Ohio... the ChillWave.
Just look at those magnificent Ice Beards!
All The Amazing Ice Sculptures At Rochester's 2022 Snow Glow Event
For 2022, the safari-themed ice sculptures lined the streets and featured an ice carving competition, live carvings, marshmallow roasting, shopping, fireworks and of course, The Big, Bright Light Show.