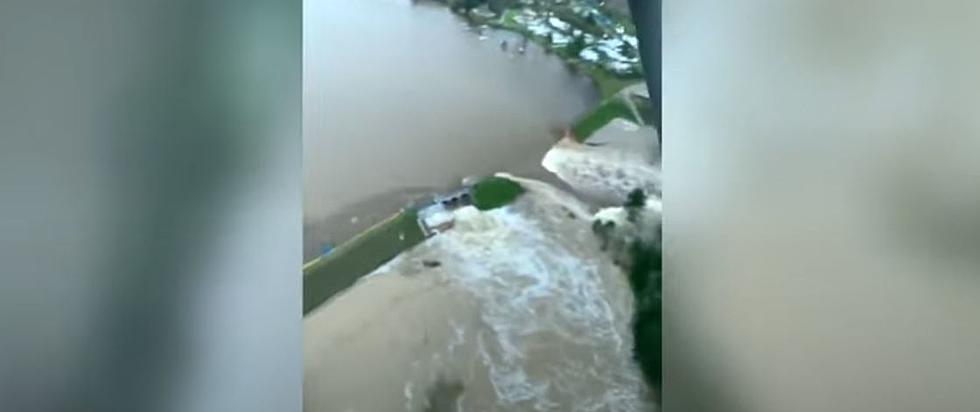 Mid-Michigan Flood Update: How You Can Help
Ryan Kaleto via Click On Detroit | Local 4 | WDIV/YouTube
The flooding in Mid-Michigan is bad enough, and now it looks like chemicals are in the mix. Plus, if you want to help out, we have the connection.
Thousands are displaced in Michigan as residents cope with the catastrophic dam breeches Tuesday. As if dealing with rising floodwaters wasn't bad enough, now there's something else to contend with. The Dow Chemical Company says the floodwaters have mixed with its containment ponds at its plant in Midland.
It's not clear exactly what chemicals were in the ponds, and so far any potential hazards are not known, but the company has activated its local emergency operations center and partnered with the U.S. Coast Guard to activate emergency plans.
Meanwhile, at least 10-thousand people have been ordered to evacuate. Governor Gretchen Whitmer has issued an emergency declaration in connection to the floods, which she says are being described as a "500-year event."
The one bright spot in all of this flooding is the fact that no one was injured or killed in the flooding.
Speaking of "events," the executive order enacted on Monday by Governor Whitmer banning non-essential visits, including tours, at manufacturing plants...will not apply to President Trump's planned visit to Ford's Rawsonville manufacturing plant today, which has been making ventilators to respond to the COVID-19 pandemic. In a statement, Whitmer's communications director says while the President's visit is contrary to the executive order, "this is an opportunity to showcase how important Michigan is to the response to COVID-19 and rebuilding our nation's economy." Trump says he'll consider wearing a face mask during his visit to the plant.
Is it possible there's a thaw in relations between the two? I wouldn't count on it.
Enter your number to get our free mobile app
Five Artists Who Could Organize a Michigan Charity Concert